The following information should be strictly filed in the rumor department, since I don't have any concrete details that say a new BlackBerry 8930 Curve series device will hit CDMA carriers in the United States–or that such a device even exists. (See those big ol' question marks in the headline?)
However, what I do have is a strong hunch. And a bunch of loose ends that seem to suggest we just may see two new revamped BlackBerry Curve 8900 devices for the U.S. market in the coming months: a Curve 8910 for GSM carriers (AT&T, T-Mobile) and a CDMA Curve 8930 (likely for Verizon Wireless and/or Sprint).
Here's the deal:
In recent days, the BlackBerry-world has seen a variety of information about an updated BlackBerry Curve 8900 smartphone, the Curve 8910. New Bluetooth SIG and Federal Communications Commission (FCC) filings tell us the Curve 8910 is in the process of getting certified for use in North America and elsewhere.
The Curve 8910 appears to be an upgraded Curve 8900 with EDGE-only connectivity–no 3G–a number of style-cues grabbed from its smartphone-brother, the Bold 9700, and perhaps most-notably, the new BlackBerry "trackpad" which will replace RIM's often-problematic "trackball."
We've seen multiple purported images of the Curve 8910. And just yesterday, "news" broke that T-Mobile U.S.A. is no longer listing the Curve 8900 for sale on its website. That could mean the carrier is readying for the arrival of the Curve 8910.
My take: The Curve 8910 is really just another 3G-less, GSM BlackBerry, without anything to truly set it apart from existing RIM handhelds. And releasing another such device doesn't make much sense for RIM, considering the Curve 8900 is not exactly flying off of retail store shelves. (I go into more detail in a previous post on the subject.)
But a CDMA BlackBerry Curve 8900, a Curve 8930 if you will? That's another story altogether–a story that makes a hell of a lot more sense to me.
It's true; no FCC or Bluetooth SIG documents pertaining to a Curve 8930 have been spotted. But that doesn't mean they don't exist…
And since we've never seen an image of the BlackBerry Curve 8910 powered on, no visible carrier icon or coverage indicator could be viewed. So the pictured device could actually be a Curve 8930.
RIM has not released a CDMA version of the original Curve 8900 or either Bold smartphone, so adding a 9630 to its CDMA lineup would offer a whole new form factor to BlackBerry users on Verizon, Sprint or whatever additional carriers could end up selling it. In other words, Verizon or Sprint customers who've had their eyes on the 8900 and/or Bold 9700 but were unwilling to switch carriers would finally be able to scoop one up.
And assuming the Curve 8930 would look like the images we've seen of the 8910, it should resemble a Bold 9700 with a "Curve-style" keyboard. That form-factor would fill a gap in RIM's current CDMA offerings somewhere between the entry-level Curve 8530 and the slightly-bulky Tour 9630/9650. Or the Curve 8930 could retain the original 8900's form factor, since it would still be "fresh" to Verizon or Sprint users. (RIM's BlackBerry Storm2 is also CDMA device, but its touch-screen puts it in a different category than the Curves and Tours.)
The CDMA version of
the Curve 89xx would also presumably be 3G, since all of RIM's recent CDMA devices, including the low-end Curve 8530, all support U.S. 3G frequencies.
Oh yeah, a listing for the BlackBerry Curve 8930 was also spotted yesterday online at mobile-software-store MobiHand.com, along with listings for the as-of-yet unannounced BlackBerry Tour 9650 and Pearl 9100 devices. This could've easily been an error on MobiHand's part–no listing for the Curve 8910 exists, so the company could be mistakenly referring to this device and not the 8930. But it's one more piece of evidence that suggests a Curve 8930 for CDMA networks could be in the works.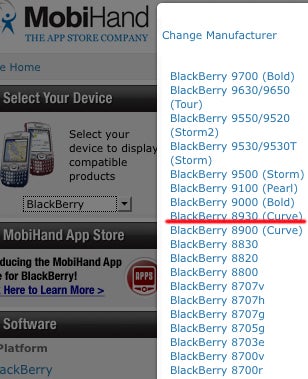 So. What if I was to tell you that a Curve 8930 would be coming soon to a CDMA carrier near you? Is that something you might be interested in?
AS
Tip o' the Red Sox cap to CrackBerry.com's Bla1ze for spotting the MobiHand 8930 listing.
FREE CIO BlackBerry Newsletter
Get better use out of your BlackBerry and keep up-to-date on the latest developments. Sign-up ť