SLAPPED! The year in tech industry fines
It's been a "fine" year for AT&T, Sprint, T-Mobile, Verizon and others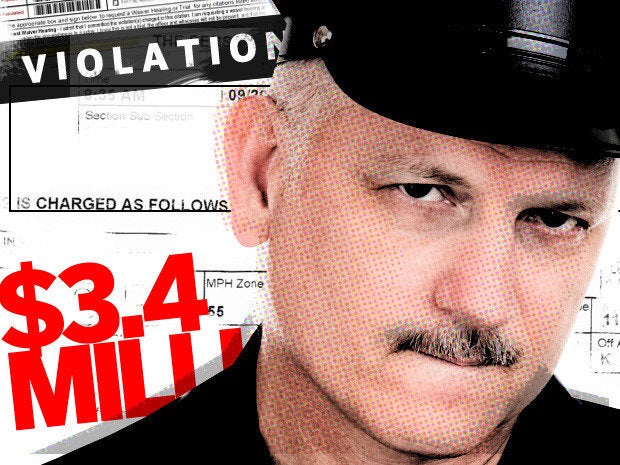 NAUGHTY, NAUGHTY, NAUGHTY'
It's not like most of the big carriers and tech companies can't afford a fine or two from the FCC, Justice Department or Federal Trade Commission here and there, but it's still not the best publicity. Here's a rundown of the year in tech industry fines to date:
VERIZON 911
The FCC in March fined Verizon $3.4 million for failing to notify police and fire departments last year during a six-hour 911 service outage affecting 750,000 California residents. The outage stemmed from a coding error at a big 911 routing center. Other carriers were also involved.
APPLE VS. SMARTFLASH
Close one here for Apple. It had originally been ordered to pay $533 million in damages to patent-licensing company Smartflash over allegations that Apple's iTunes infringed on data serving/managing patents. But in July, a federal court in Texas ordered a new trial due to possible improper jury instructions, so this one is to be continued.
AT&T RECORD BREAKER
The FCC said in June that it plans to fine AT&T Mobility a record-breaking (for the commission) $100 million fine for severely slowing down data speeds for customers with unlimited data plans. This practice put the squeeze on customers looking to use GPS, streaming video and other common apps. "Since 2011, the Commission has received thousands of complaints from AT&T's unlimited data plan customers stating that they were surprised and felt misled by AT&T's policy of intentionally reducing their speeds," the FCC stated. 
SPRINT, VERIZON CRAM
Sprint and Verizon Wireless were ordered in May by the FCC to pay a combined $158 million to settle complaints for bill cramming, that is, charging customers for third-party text messaging services they didn't ask to purchase. "For too long, consumers have been charged on their phone bills for things they did not buy," FCC Chairman Tom Wheeler said in a statement. 
PAYPAL DISCREDITED
The Consumer Financial Protection Bureau in May ordered PayPal to pay $25 million in fines for sneaky practices involving its credit service, including signing people up without their permission. Customers signed up without their approval for PayPal Credit were ignored when they complained as well, according to the agency.
GOOGLE, FACEBOOK GET MORBID
A Brazilian court in July fined Facebook and Google about $16K each for failing to remove or block morbid images on their sites. The ruling followed the surfacing of morgue photos of a Brazilian musician killed in a car crash with his girlfriend in June. For its part, Google has said it has attempted to rid its site of such images and will appeal the decision, according to a report in The Guardian.
T-MOBILE 911
T-Mobile USA in June was ordered to pay $17.5 million to settle a complaint by the FCC for two 911 outages on the company's network in 2014. The outages left customers unable to reach emergency resources, and T-Mobile has pledged to address shortcomings in its system. FCC Chairman Tom Wheeler said: "Communications providers that do not take necessary steps to ensure that Americans can call 911 will be held to account."
AT&T GOES WILD ON WIRELESS
The FCC in January said it was hitting AT&T with a $640K fine for "allegedly operating numerous wireless stations throughout the United States without authorization over a multiyear period and failing and to provide required license modification notices to the Commission." The FCC keeps an eye on such shenanigans to avoid radio communications interference from taking place, among other things.
BOBBY BONES SHOW MISFIRE
The FCC penalized iHeartCommunications $1 million for transmitting fake emergency alerts last year during a broadcast of "The Bobby Bones Show," a morning country music radio show that airs across the nation from Nashville. The show members were discussing an emergency alert that interrupted a 2014 World Series game, and mistakenly played a YouTube clip that included the alert sound over the air.
Copyright © 2015 IDG Communications, Inc.
Next Up: Check out these related slideshows