Looking to add a bit of flair to your BlackBerry smartphone, but don't want to drop hundreds of dollars on a ColorWare custom paint job? With just $7.99 and little bit of elbow grease, you can now fit your precious BlackBerry with a red, blue, purple or yellow trackball.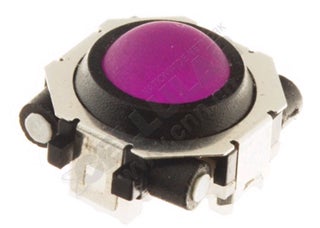 Last weekend, CNN.cn, the website for Cellular Nationwide Network, a retailer of various gadget parts and accessories, listed red BlackBerry trackballs for sale, but the blue, purple and yellow versions just made their debut this morning. All versions, including the default clear trackball, sell for $7.99 plus shipping. And they're compatible with all BlackBerry 81xx/82xx/83xx/88xx/89xx/90xx devices, according to the manufacturer.
These new colored trackballs aren't the first products that let BlackBerry users modify trackball colors; Pimp My Pearl is an application that lets BlackBerry Pearl 8100 and 8110 users change the colors of their trackballs at will. However, that program is compatible with only those two specific Pearl models, as necessary internal components were removed from additional Pearl versions.
Removing and replacing a BlackBerry trackball isn't exactly difficult—for some models, it's as simple as popping the old one out and squeezing in a new one—but it will very likely void your manufacturer's warranty. So make sure you know what you're doing before taking the plunge.
More information on the colored trackballs is available on CNN.cn, along with instructional videos on how to remove and replace a BlackBerry trackball.
For more (pricey) BlackBerry customization options, read "BlackBerry Bling: The Hottest—and Priciest—Pimped-Out BlackBerrys."
AS
FREE CIO BlackBerry Newsletter
Get better use out of your BlackBerry and keep up-to-date on the latest developments. Sign-up ť