I'm fortunate to live in a section of Boston with lots of neighborhood activity: restaurants, clothing stores and sporting goods stores are all within walking distance.
For consumer tech, there is an Apple store three blocks away on Boylston Street. But I'm not exactly an Apple fanboy — the only Apple product I own is an iPad nano. For broad electronics, I used to frequent a Best Buy store that stood proudly at the corner of Newbury Street and Mass Ave. for five years. Sadly, the store went out of business in April (freakin' Internet).
Two weeks ago, a Microsoft store adorned with the new company logo opened to great fanfare in the Prudential Center mall across the street from the Apple store. Not that a Microsoft store is a replacement for Best Buy, but at least now there's some retail balance for us non-iPeople.
Over Labor Day weekend I scoped out the new Microsoft store. The first thing you notice is that it's smaller than you expected. It's 3,600-square-feet, but the layout runs wide, not deep, so it feels smaller. It's the first of all the U.S. stores to be designed this way, a staffer told me, because it's the first to be located in the heart of a city. City malls are for strollers, and you want strollers to see the entire store in one glance as they walk by (and hopefully walk in).
In Pictures: The Best of Windows 8 Hardware (So Far)
Most other Microsoft stores are in suburban areas that customers drive to with the intention of going to the store, so those stores have deep, not wide, layouts.
The products on display are nothing extraordinary: Super-thin Windows 7 ultrabooks here, standard laptops there, all-in-one desktops here, all from OEMs like Samsung, Lenovo, Acer and Asus. There is a small section for Windows Phone handhelds. Nokia Lumia phones get the spotlight, but Samsung and HTC phones are also on display. Of course, Office 2010 software packages are for sale as well as every Xbox video game you can imagine.
Xbox Kinect stations are placed around the store for trying out gesture-based games, with an enormous Kinect screen serving as the store's centerpiece. The walls are mostly video screens promoting various Microsoft products.
There are a few scattered tablets on display, but unfortunately they are Windows 7 tablets, which Microsoft is not trying to push on customers because the OS was not designed for touch-screen capability. These tablets are adequate at best and were mostly ignored by shoppers. You sensed that they were just placeholders for when the Windows 8 tablets, namely the Microsoft-branded Surface tablet, roll in after the Windows 8 launch on Oct. 26. To prepare for this the store has a Windows 8 help desk/demo area upon entrance where a staffer can walk you through Windows 8 on a tablet.
With the exception of the Xbox Kinect products, the whole store had that "Waiting for Windows 8" feeling. There was an elephant in the room. Don't get me wrong, there was a genuine buzz in the Boston store, but every staffer I talked to seemed aware that hawking Windows 7 devices is soooo 2010 and that the store truly opens when Windows 8 opens.
Here are some snapshots from the Microsoft Store in the Prudential Mall, Boston.
Store entrance, open and wide.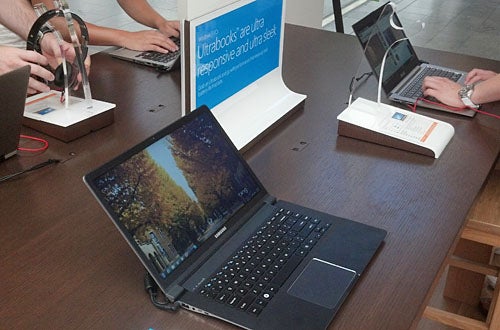 Thin and light Windows 7 ultrabooks.
Windows 8 demo on a Samsung tablet.
Windows Phones from Samsung, HTC and Nokia.
Dancing to Xbox Kinect game "Dance Central".