The Jabra HALO2 is a sleek-looking wireless headset that streams music from Bluetooth-capable smartphones and tablets. The HALO2 can also be used for phone calls thanks to two integrated microphones, and it folds up for portability and storage.
The Jabra HALO2 folded up
The unit I received was white, but it's also available in black. Jabra says the HALO2 offers eight hours of music playback or talk time and 13 hours of standby time when fully charged. The device automatically shuts down when it's folded closed, and it powers on again when it's opened.
It took me a while to adjust the HALO2 to get it to fit comfortably, and it doesn't exact fit snuggly; you probably won't want to chase the bus or nod your head too vigorously while using the HALO2. Overall, the sound quality is good for Bluetooth headphones, and bass sounds better than I expected it to. The Jabra HALO2's charge level can also be monitored via a variety of supported devices, which is a useful feature. And the HALO2's volume resets automatically to mid-level when you fold it to power it off and then unfold it.
A touch-sensitive volume control on the right earcup lets you adjust playback volume by sliding your finger up or down. And the headphones beep when you reach the maximum level. But you probably want to max out the volume on your media player and adjust sound levels using the HALO2's volume controls.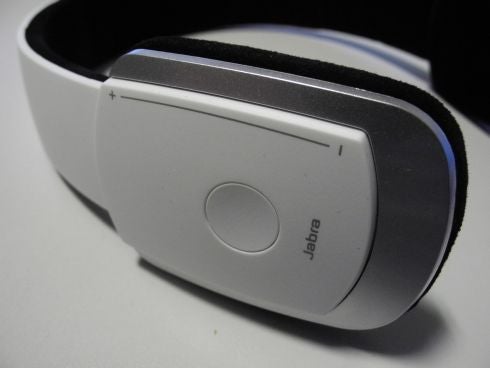 The HALO2's single button can be used to make calls or pause/resume music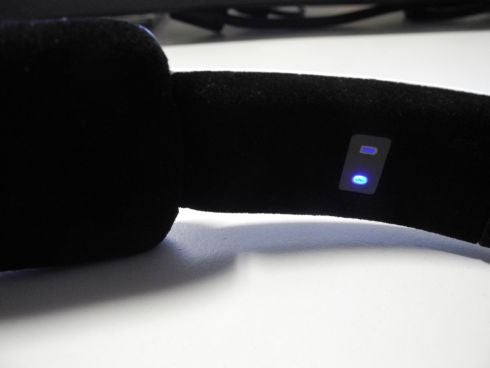 The battery and Bluetooth indicators on the inside of the headset
The Jabra HALO2 also works with non-Bluetooth devices thanks to the included 3.5mm to micro-USB music cable that fitt into the headphones' micro-USB port, though the cable will not work when the battery is dead. And you use the same micro-USB port along with an included wall charger to power up the device.
Conclusion: Jabra HALO2
The Jabra HALO2 headphones delivers better-than-average music playback, and they're sure to turn heads. But comfort levels may vary from individual to individual, and the $130 price is a bit steep.