For many people—hello, teenagers of the world!—text messages are the preferred form of communication. How cool would it be, then, if you could type those messages on a computer keyboard instead of pecking them out on a virtual smartphone keyboard? Or receive SMS and MMS messages on your computer or tablet as well as via smartphone?
Google has enabled these features (sort of) for several years with Gmail and Google Voice, and Apple is making a push with iMessage, which will soon sync across all your iOS and Mac OS accounts when Mountain Lion (due this summer) and iOS 6 (in fall) are available.
And now, there's a new Android option in MightyText.
MightyText is a free Android app (current version 2.90) developed by two former Google employees. The app has been in beta for a while, and it was officially released this week. MightyText's goal: To turn your computer into an extension of your Android device's SMS and MMS messaging plan.
After downloading the app to your Android smartphone, you connect MightyText to your Google account. On your computer, you install MightyText's browser extension for Chrome, Firefox, Safari or Internet Explorer. It only takes a few minutes to get going, and soon, you can send and receive texts in your browser.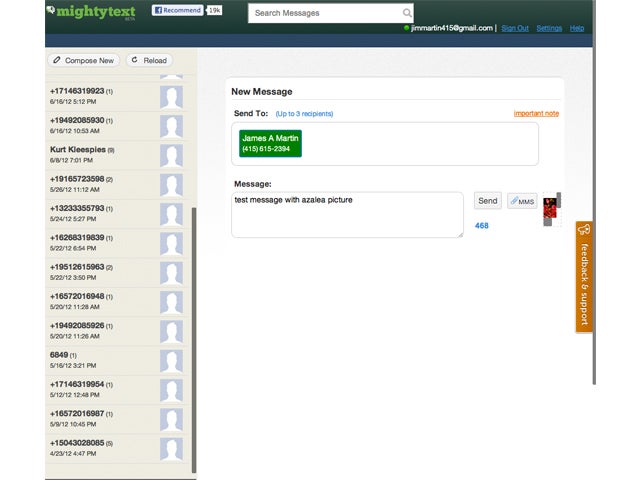 Those texts aren't free, however, because MightyText uses your smartphone's SMS and MMS service and plan. The service actually routes messages through your phone, according to MightyText founder Maneesh Arora in a recent GigaOM article.
A benefit of this message-delivery system is that people you message using your computer see your smartphone number. Message recipients can't tell whether you tapped out the message on your mobile device or a computer keyboard. By comparison, texts sent using Gmail or Google Voice don't include your smartphone number. However, Gmail, Google Voice and iMessage messages are free and don't affect your monthly text-message allotment.
In my tests, MightyText worked fairly well, but it's not perfect. I was able to send an MMS from my iPhone to my Android smartphone's number, which I could then view in MightyText in Safari on my iMac. However, none of the people to whom I sent MMS messages from the MightyText Chrome or Safari extensions actually received those messages. I emailed MightyText's tech support for help, but as of this writing, I've not heard back.
Despite that disappointment, I'm willing to give MightyText a pass for now. What the developers are doing is worthwhile, and the app is just out of beta. Still, MightyText better work out those MMS kinks quickly. You know how impatient teenagers can be.