The Microsoft Wedge Mobile Keyboard is designed specifically for use with mobile devices running the company's upcoming Windows 8 OS and Windows RT. But the Wedge is a standard Bluetooth device, and it will also work with Windows 7 PCs, Mac OS X machines, iPads and Android tablets.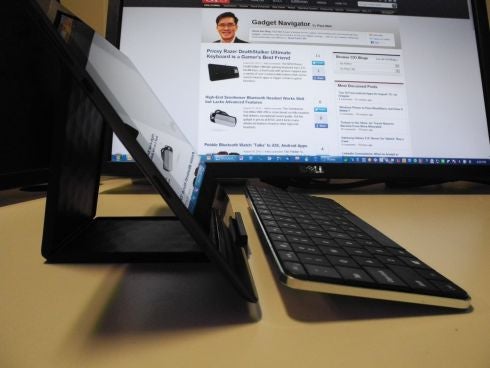 The Microsoft Wedge Mobile Keyboard and an Asus Transformer Prime tablet.
The Wedge Mobile Keyboard runs on two AAA batteries that slip into a spring-loaded tray on the keyboard's underside. Tapping the Function (FN) key and the Power key simultaneously turns the keyboard on, and holding both keys for a few seconds turns it off. A multipurpose cover protects the keys and doubles as an adjustable tablet stand. The cover can also be used to turn the keyboard off when it's closed and turns it on when it's opened.
I was able to quickly pair the Wedge Mobile Keyboard with a new iPad and an Asus Transformer Prime tablet running Android 4.0. All of the media-control keys worked well, but as expected, Windows 8-specific hot keys did not.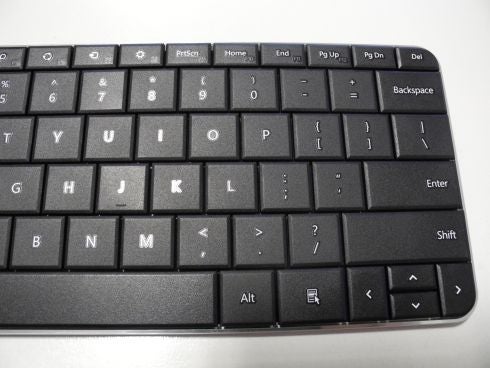 A closer look at the Wedge Mobile Keyboard and its oversized keys.
The spring-loaded battery tray.
The Wedge Mobile Keyboard is smaller than a full-size keyboard. The depth of the keys when depressed is also slightly less than that of a desktop keyboard's keys. But I was still able to type at a very good speed with virtually no errors. This isn't the case with many other mobile keyboards I've used, and the oversized keys, which are as large as standard desktop keyboard keys, definitely helped.
The Wedge's multipurpose cover has a metal plate at its core, and it is completely covered in a thick layer of rubber. The keyboard is hefty enough that it can be used as a stand for a 10-inch tablet without the risk of the tablet toppling over. Unfortunately, the rubber attracts oil and dust like a magnet, but it provides great protection and also makes the tablet easy to grip.
The wedge-shaped compartment under the keyboard is rather large, and it prevents the use of thin slip cases. The keyboard angle caused by the wedge didn't negatively affect my typing. The shiny chrome-like finish along its edges looks great, and the aluminum base makes the keyboard durable.
The "hinge" of the multipurpose cover.
The Wedge Mobile Keyboard with the Multipurpose cover.
Conclusion: Wedge Mobile Keyboard
The Microsoft Wedge keyboard is hardly the slimmest or lightest portable keyboard on the market, but it offers an exceptional typing experience, especially when you consider its small footprint. The multipurpose cover provides great protection, and it works very well as a tablet stand.
The Wedge Mobile Keyboard costs $80, and it is expected to ship very soon.