The Sennheiser VoiceMax (VMX 200) Bluetooth headset deliver crystal clear audio thanks to the company's dual-microphone VoiceMax technology. The headset is powered by Bluetooth 3.0+EDR, which uses less power than earlier Bluetooth versions.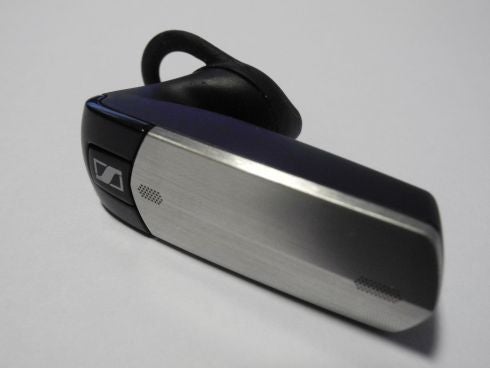 The headset comes with a USB charger and a micro-USB cable. It takes about two hours to fully charge, and you get about six hours of talk time per charge. The gadget also ships with an earhook that can be used for a more secure fit, and it has three different size ear adapters. The ear adapters are easy to swap out, and they fit snugly in place during normal use. Sennheiser does not provide a pouch or carrying case though, which would have been a nice addition.
Back view of the Sennheiser VoiceMax VMX 200.
The optional earhook and ear adapters for the VMX 200.
To pair the headset with a Bluetooth device you press and hold a button with the Sennheiser logo for 5-seconds to initiate pairing. Holding the button for 3 seconds toggles it on and off, and tapping it once answers incoming calls and ends existing ones. Two volume buttons let you tweak the volume of the headset, and the device beeps to let you know when you hit the maximum (or minimum) level.
What I like most about the VMX 200 is how comfortable the Twist-to-Fit ear adapters feel. They fit well enough that I chose not to use the optional earhook. Sound quality is excellent and was consistent. However, I wish there was a way to determine the charge level, a handy feature that is common in most high-end Bluetooth headsets toda.
The VMX 200 audio quality is impressive, but its general lack of features, such as voice commands or voice guidance, make it feel average. The retail price of $150 is also high, but if you seek a no-frills headset that delivers clear, high-quality audio, then the Sennheiser VoiceMax VMX 200 could be for you.