I drink my fair share of coffee, most of it from two specific coffee chains: Starbucks and Dunkin' Donuts. In fact, I have a big ol' cup of Dunkin' java next to my keyboard as I write this.
One of the few mobile-payments apps I actually use is Starbucks' mobile coffee card app, which has been available for years. The app is simple to use, and it lets you not only pay for your coffee with your smartphone, but also reload your Starbucks loyalty card and earn rewards, as well as find Starbucks locations near you.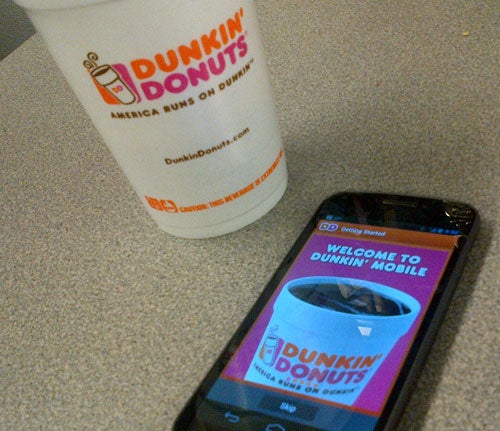 Starting today, you can also pay for your Dunkin' Donuts coffee with a smartphone, thanks to the brand new Dunkin' Donuts apps for iOS and Android devices. (The app is not compatible with Android tablets, but it should work on the iPad.)
The Dunkin' apps are very similar to the Starbucks apps; you just connect your coffee-cards to your online account and then bring up a QR code that a Dunkin' cashier then scans for payment. And the interface is good looking and fairly intuitive.
You can send digital gift cards via text, e-mail or Facebook. And the app links to nutrition information for menu items on DunkinDonuts.com.
The Dunkin' apps are notable because Starbucks' app is one of the few mobile-payment apps that consumers have embraced, and if the Dunkin app is similarly well-received, the two coffee-chains could prove to be significant motivators in the acceptance of mobile payments in general.
One potential problem: Dunkin' Donuts locations must have the appropriate scanners and systems to process the digital barcode information. The Starbucks mobile app has been available for quite a while, and I still occasionally find locations that do not have the equipment needed to scan the mobile payment app. The Dunkin' app is brand new, so I can only assume it will take some time for the company, or each franchise, to roll out the scanners.
You can download the free Dunkin' Donuts iOS apps via iTunes and the Google Play store.
AS