I've evaluated quite a few screen protectors for iPhones, iPads, Android devices, BlackBerrys and others smartphones and tablets in my Gadget Navigator blog, l've also used many other screen protectors during the past years. Today, I'm spotlighting the three best screen-protector brands I've found.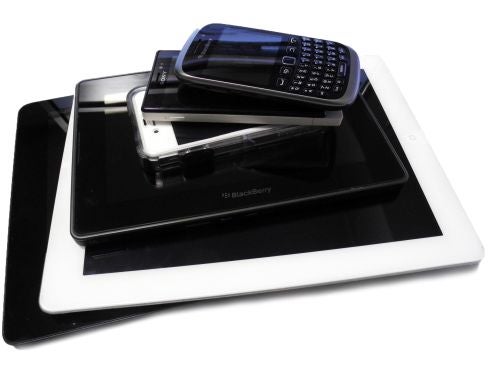 Moshi iVisor XT
The Moshi iVisor XT is a screen protector that installs quickly and easily, and it retains a high level of screen clarity. What I particularly like about the iVisor XT is how easily it can be installed without a messy application solution. And stiffness of the screen protector helps eliminates wrinkles, creases and air bubbles. One downside though is that some tight-fitting cases may not fit your gadget very well due to the relative thickness of the iVisor.
The iVisor XT costs $30 for the iPad and $25 for the iPhone. Moshi also offers the iVisor AG (for Anti-Glare) with a matte surface for popular devices including the Samsung Galaxy S III, Galaxy Note, HTC One and Nokia Lumia 900.
Wrapsol Screen Protector Film
The Wrapsol Ultra Hybrid screen protector for iPad uses a hybrid-installation procedure: The front screen protector can be applied "dry;" a back piece requires the use of a liquid application solution. Small plastic "handles" on the screen protector help you quickly align it on your device's screen, and any small air bubbles trapped beneath the protector simply disappear after a couple of days.
I like the clarity of the Wrapsol screen protector, and the back panel offers great protection when used with Apple's iPad Smart Cover. Wrapsol protective films are available for a large number of smartphones and tables, and the Wrapsol for the iPad2/new iPad costs $40 (front and back films) and includes free shipping
ZAGG invisibleSHIELD
The ZAGG invisibleSHIELD was developed by the U.S. military, where it is used to protect helicopter blades from dirt and debris. After installing the invisibleSHIELD on my laptop and a ZAGG Maximum Coverage screen protector on the new iPad, I can say without any doubt that the invisibleSHIELD is more difficult to apply than your typical film protector; the adhesive side of the film scrunches up if you're not careful, and some of the finer cutouts can be tricky to align properly.
The invisibleSHIELD surface helps reduce glare and fingerprint smudges, and it doesn't affect the brightness of your screen. The invisibleSHIELD is also one of the toughest, most durable screen protectors on the market today. The texture does reduce the clarity of small text on Apple's Retina screen of the new iPad, but ZAGG offers a more expensive "HD" version that supposedly addresses this issue.
The ZAGG invisibleSHIELD is available for practically all smartphones, tablets and laptops. Pricing varies by gadget.
Do you use a screen-protector film to protect your smartphone and/or tablet? If so, let me know your thoughts in the comments below or tweet me at twitter.com/@paulmah.