The BlackBerry OS was largely designed for enterprise use, and as such, Research In Motion (RIM) built a wide variety of security safeguards into the platform. For this reason, BlackBerry devices have never really been targeted by malware authors, at least to the extent that other leading mobile platform such as Google's Android OS have been attacked.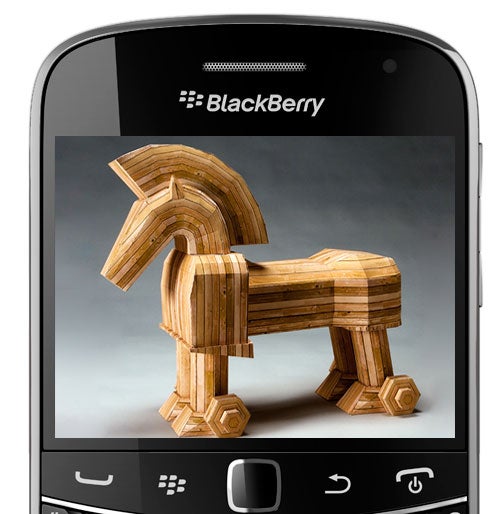 But newly discovered mobile Trojans, or Zeus-in-the-Mobile (ZitMo) Trojans, suggest The Bad Guys see value in targeting BlackBerry users outside of North America, where RIM still has a relatively strong foothold in the mobile space.
From Kaspersky Lab researcher Denis Maslennikov:
"It's not that often when we hear/find new wave of ZeuS-in-the-Mobile (or SpyEye-in-the-Mobile) attack. So every new piece of information about these types of malware and/or attacks involving them is very important and helps to understand the evolution of one of the most interesting threats in mobile space so far….

"We've got 5 new files of ZitMo: 4 for Blackberry and 1 for Android. As you may know, the Blackberry platform has never been actively targeted by malware. And here we have 4 different samples of ZeuS-in-the-Mobile for Blackberry at once: 3 .cod files and 1 .jar file (with one more .cod inside). Yes, finally we've got a ZitMo dropper file for Blackberry."
The new Trojan attempts to steal online banking information from users in Germany, Spain in Italy.
This is not the first time researchers found Trojans for BlackBerry; Trend Micro says it identified a BlackBerry Trojan in the spring of 2011. But it is the latest BlackBerry Trojan to be identified, and it appears to have been created relatively recently.
AS