Kensington's KeyFolio Pro 2 is an iPad case with a removable Bluetooth keyboard that is optimized for heavy typing. A uniquely-designed velcro fastener ensures stability when the case is open, and it can be used at viewing angles of 20 to 70 degrees. When closed, the KeyFolio Pro 2 case offers basic protection from scratches and nicks.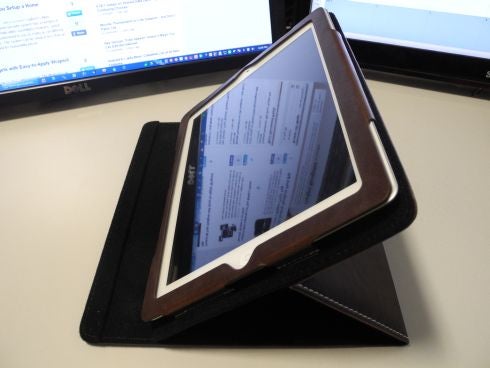 The Kensington KeyFolio Pro 2 removable keyboard, case & stand in an inclined position with the keyboard removed.
KeyFolio Pro 2 Removable Keyboard, Case & Stand
The KeyFolio Pro 2 is relatively bulky, and it has high-quality stitching that looks built-to-last. The case allows access to all of the iPad's ports, and it doesn't block the front or back cameras, speakers or buttons. The inside bottom edge of the case is lined with Velcro hooks that hold the folio steady when in use, which makes for a degree of stability missing from many comparable cases.
The keyboard attaches to the case using magnets, and it can be easily removed. Removing the keyboard doesn't reduce the weight of the unit, but the front cover can be folded back so it's easier to hold in one hand when it's removed. Taking out the keyboard also lets you tilt the case to angles that are more comfortable for watching video clips or surfing the Web.
The on/off toggle on the right-hand side of the Bluetooth keyboard.
The Kensington KeyFolio Pro 2 keyboard placed flat on the table.
A close-up shot of the faux leather exterior with high-quality stitching along the edges.
Kensington has learned from its mistakes with earlier keyboard cases, and it eliminated some past features that weren't implemented properly. For example, Kensington decided not to use magnets to automatically shut down the iPad–a wise choice since the KeyFolio Pro 2's thickness makes it difficult to precisely align the cover.
The case and the attached keyboard are wider than the iPad. This means that the keys are not as cramped as some of the other iPad keyboards out there; the keys are hard plastic and offer a tactile feel comparable to the average laptop keyboard. And an easily-accessabile on/off button on the right side allows the keyboard to be quickly switched on and off.
Conclusion: KeyFolio Pro 2
I don't really like the KeyFolio Pro 2's faux-leather material, but the case is a well-designed product. It is rugged and will definitely protect the iPad against scratches, knocks and the occasional drops.
What impressed me most was the quality of the removable keyboard and how responsive it felt when typing. Though it's not cheap at $100, I recommend the Kensington KeyFolio Pro 2 as a work tool for users who don't mind its above-average heft and want protection and a good keyboard.