Bowers & Wilkins says its MM-1 Active Multimedia Speakers are true hi-fi speakers resized for use on a desktop, and they use dedicated bass/midrange and treble drivers for high-quality sound. The MM-1 also uses internal DSP (Digital Signal Processing) and a digital amplifier to drive the desktop speakers.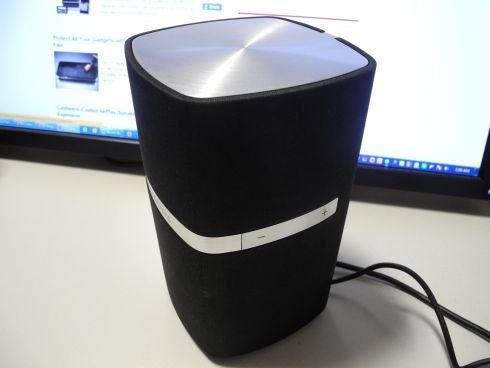 The volume control is blended into he right speaker, and the power button is hidden on the opposite side.
B&W MM-1 Speaker Setup
The B&W MM-1 speaker-setup process was simple and straightforward; most folks probably won't even need to look at the setup instructions. Setup goes like this: You unwind the cable from the left speaker and plug it into the right speaker; plug the USB cable leading from the right speaker into your laptop or desktop; and finally, plug in the AC adapter into the right speaker. Your computer should then automatically detect the speaker.There is literally no way to plug the cords into the wrong sockets, since each cord is either wired into place or uses a completely different socket. There's also no question as to how to position the speaker. You simply place the MM-1 speaker with the "Bowers & Welkins" logo stenciled into its aluminum band facing forwards.
The underside of the right speaker.
The left speaker has a receptacle at its base for easily stowing away its cable.
My Experience with the MM-1 Speaker
A common problem with small desktop speakers is that audio can be "muddy" or less clear when played at low-to-mid volume levels. This doesn't appear to be a problem with the MM-1 speakers, though; they produce audio that is nuanced even at low volumes. Treble is crisp and bright without sounding harsh, and low notes also sound clear.
You shouldn't expect room-shaking bass from the MM-1, though, since it lacks a dedicated subwoofer. In my listening tests, the MM-1 worked best for playing jazz and country musi, and slightly less so with rock music.
The MM-1 speakers come with a remote control. They also have a 3.5mm mini jack input and a 3.5mm mini jack headphone output. I noticed that the amplifier in the right speaker gets really hot after a while, so users may not want to stack anything on top of it. Overall, the MM1 is a great-looking speaker system that will fit well on the average desktop.
The Bowers & Wilkins MM-1 speakers don't come cheap at $500. But the build quality and intuitive controls are impressive, and playback is exceptional, especially when you consider the compact size. I'm not sure I'd pay $500 for the speakers, but if design and audio quality are essential to you, you might feel differently.