Mark your calendars Windows lovers (and I guess haters). Windows 8, Microsoft's highly-anticiptated next version of Windows, will be generally available on October 26, 2012.
The news was announced today by Windows chief Steven Sinofsky at Microsoft's annual sales meeting. Here is a company blog post on the Windows 8 announcement.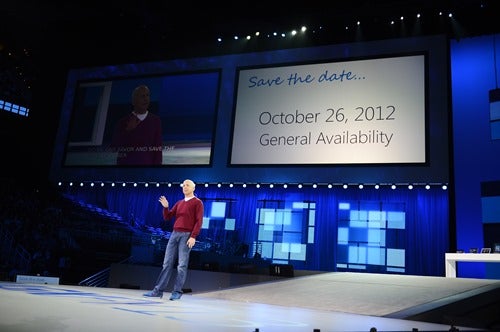 Obviously on Oct. 26 customers will be able to buy new Windows 8 devices. But also, if your PC is running Windows XP, Windows Vista, or Windows 7 you will qualify to download an upgrade to Windows 8 Pro for $39.99 in 131 markets.
In Pictures: The Best of Windows 8 Hardware (So Far)
A couple weeks ago at Microsoft WPC (Worldwide Partner Conference) in Toronto, Microsoft confirmed that Windows 8 would launch in late October.
October 26 is a Friday, and I did find it surprising that Microsoft is doing a major product release on a Friday. Historically big Microsoft releases happen in the beginning or middle of the week so the buzz keeps buzzing through the work week where people are more apt to read the news. Doesn't Microsoft know that people tend to forget about everything on the weekend?
But hey, for what it's worth, the first iPhone released on a Friday (June 29, 2007), and that product has done okay.
In any case it's nice to have date of birth for the fist version of Windows designed to work with with touchscreen capabilities on both PCs and tablets. Save the date.
Microsoft confirmed that the Windows 8 RTM (release to manufacturing) version is still set for early August.