The Logitech Alert System is a complete home-video security system that can be easily setup and customized based on the needs of each user. The system uses HomePlug networking, which combines data and power cords into one cable, and a motion-triggered recording feature helps maximize available storage capacity.
Components of the Logitech Alert Security System
The Logitech Alert lineup allows home owners to build a video security system that can consist of a single camera or scale up to a maximum of six cameras. A number of camera types are available, including weatherproof outdoor units and indoor units that come with night vision capabilities. All cameras have 130-degree wide-angle lenses, and they record at 15fps, with 960×720 resolution. An integrated microphone can capture audio, and all data is stored on a micro-SD card. (The system comes with a 2GB card.)
Logitech Alert cameras are categorized as either "Master Systems" or "Add-On Cameras" on the company's website. Setting up a functional home security system requires one "Master" system and up to five add-on cameras. The difference between Master and non-Master cameras is that Master units have an additional Logitech HomePlug router that connects to your Internet router for Web access.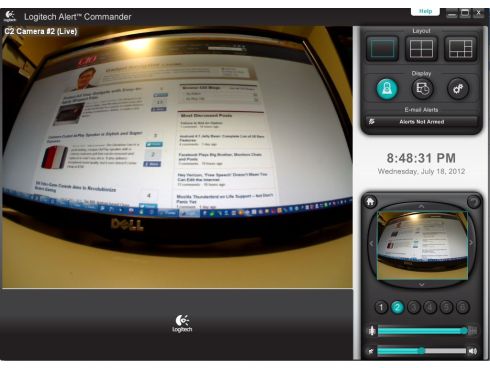 The Logitech Alert cameras and their 130-degree wide-angle lenses in action.
Setting up the Logitech Alert Security System
For this review, Logitech sent me an Alert 750n Indoor Master System with Night Vision and an Alert 700n Indoor Add-On Camera with Night Vision. Both packages contained the same camera, a power adapter, a Quick Start guide, installation CD and a network cable. The Master System also came with an additional HomePlug router. Both units came with suction cups for window mounting and desktop docks.
To setup the system, you must first install the Logitech Alert Commander software and plug in the two cameras. Next, you plug in the HomePlug router to a power source and connect it to a free LAN port on your network router. When you launch the Alert Commander application on your PC, a Add/Find wizard should detect both camera units, and you should see live video feeds on the display pane.
Various configuration settings can be tweaked via the Alert Commander app, including motion detection parameters and sensitivity. Overall, the software is intuitive, easy to use and good looking. Video from the cameras can also be automatically copied to a local PC for archiving.
The cameras are powered by Power-over-Ethernet (PoE). The micro-SD card slot with 2GB storage card is located on the right.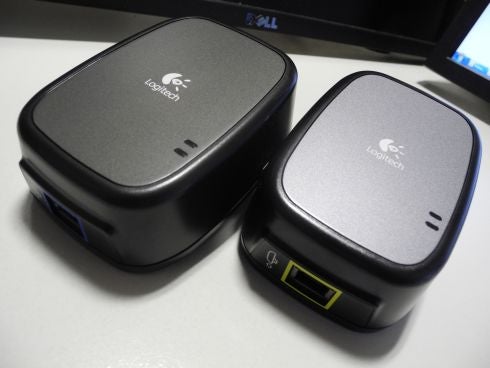 The HomePlug router for connecting to your home LAN network (left) and the power adapter (right) for the Logitech Alert cameras.
In addition to using the Alert Commander, users can also view live video streams via a Web browser at alert.logitech.com or using a smartphone app. Logitech currently offers associated Android, BlackBerry and iOS apps. I noticed a consistent 10-12 second delay in the "live" video stream on my iPhone 4S, though, and I didn't see any kind of lag when using the desktop application.
Logitech also sells all PoE (Power over Ethernet) versions of the various models here, which don't use the same power adapters.
Logitech Alert: Conclusion
The Logitech Alert system was easy to setup and was reliable in my tests. Picture clarity was superb, and the system is an incredibly polished product with slick desktop software. The Logitech Alert system is a great option for users who want a small home-video security system of 2-3 cameras, and it's reasonably priced. The Alert 750n Master System costs $300 while the Alert 700n Add-On Camera costs $230.