If you're a user of Mozilla's Thunderbird email client you may have heard that it's about to be killed.
The good news: That's not true. Mozilla will continue to provide security updates for enterprise users, and consumers for some time. As long as that's the case, there's no reason not to use it.
The bad news: You won't be seeing new features. What's more, since the application itself is essentially frozen, the developers of add-ons, one of Thunderbird's best features, will probably stop writing them.
As a long-time Thunderbird user I have to admit that I'm unhappy about this, but not terribly surprised. Mozilla, like many developer organizations, is focused on the mobile- and Web-based worlds these days, and to many people, a desktop client seems as up-to-date as a typewriter. While Thunderbird claims some 20 million users, Gmail has over 400 million, and millions more use other Web mail services.
In case you didn't get the news, here's a recap:
Mozilla Foundation chair Mitchell Baker published a blog post earlier this month about the future of Thunderbird:
"Once again we've been asking the question: Is Thunderbird a likely source of innovation and of leadership in today's Internet life? Or is Thunderbird already pretty much what its users want and mostly needs some on-going maintenance?"
"Much of Mozilla's leadership – including that of the Thunderbird team – has come to the conclusion that on-going stability is the most important thing, and that continued innovation in Thunderbird is not a priority for Mozilla's product efforts."
Not be snarky, but "not a priority" generally means we don't care about it anymore. However, there will be continued work to keep the software stable and secure, which basically means patches and bug fixes. According to Baker, that will happen through Mozilla's Extended Support Release program, which is for enterprise users. Fortunately, Mozilla will make those updates available to consumers. Updates to the consumer version will not include new features or changes to the user interface.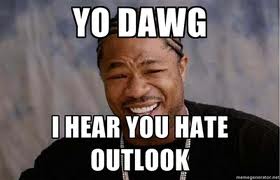 There are still a few questions that need to be answered: How long will Mozilla continue to issue the security updates and how long will the application remain on the Web? The latter issue is crucial any time you move to a new computer or have to reinstall a corrupted application. The answer to both will have to wait until September when Mozilla announces the Thunderbird roadmap, Mozilla's Gretchen Bender told me.
Mozilla is hoping that folks in the broader open-source community will contribute innovative code to Thunderbird and make it available, but I'm not optimistic about that actually happening.
What's the bottom line for Thunderbird users? For now, keep on using it. But watch for the news in September. If Mozilla decides to stop issuing security patches (could happen) or removes the application from the Web (I doubt that) it will be time to bail.
Meanwhile, I'm going to start thinking about alternatives. (If you have a favorite, please let me know in the comment section below) There's always Outlook, of course, although I'm not all that fond of that lumbering beast. Gmail is certainly popular, but Google has never put a lot of effort into the offline version. Like it or not, we can't always be online.
Thunderbird, though, works just fine offline, does an excellent job handling multiple email accounts, and has decent, if not great, search capabilities. It's also not the product of a giant, profit-hungry corporation. I'll miss it.
(Image courtesy of memegenerator.net)