The Libratone Live is a high-performance AirPlay speaker with a focus on style. Denmark-based Libratone says its wireless speakers deliver hi-fi quality sound, and they're made with premium materials including Italian cashmere, chrome and wood.
My Experience with the Libratone Live
Setting up the Libratone Live speaker was simple. After powering it up, I connected to its wireless network,and I browsed to the company's associated Web page. Then I selected my Wi-Fi network from a drop-down list of detected networks, keyed in my password and saved the configuration. In just seconds, the Libratone Live was available on my network as an AirPlay device.
The Libratone Live's music-playback quality is great, but some people may find fault in its less-than-perfect stereo imaging features . When placed near a wall, its bass is impressive, and its high notes are crisp. A free Libratone iOS app also lets you tweak the speaker's sound processing features, and it shows the Wi-Fi signal strength. I did not test the feature, but the app can apparently be used to update the Libratone Live firmware too.
The triangular design of the Libratone Live allows it to be tucked away into a corner of a room or desk, and it stands upright and takes up very little space. A backlit Libratone logo turns solid when an AirPlay device is streaming music to it, and the logo pulsates slowly when a device is available.The power adapter is also built into its chassis, which allows for an uncluttered feel that lends to its sophistication.
The triangular design of the Libratone Live makes it easy to tuck into a corner of a room or table.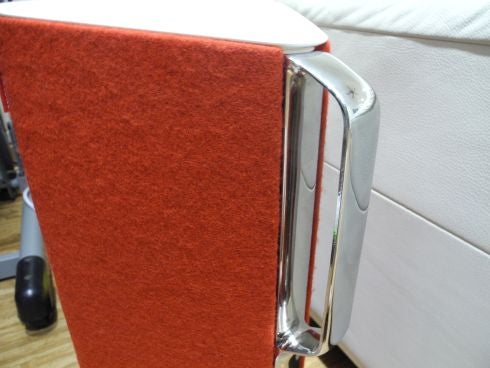 The chrome handle makes Libratone Live very portable.
From bottom to top: The power cord, on/off switch and a connector for 3.5mm headset jack or optical cable.
Libratone Live: Conclusion
At $699, the Libratone Live is one of the most expensive AirPlay speakers on the market today. However, it is also one of the only speakers that allows you to swap its cashmere speaker grill to match your decor. Everything about the Libratone Live oozes style, even the rust-resistant chrome handle and braided power cord.
Assuming you don't mind dropping $700 on a portable speaker, the Libratone Live AirPlay speaker is sure to please. It's available online at www.Apple.com in the United States. For other regions, check out this list of the retail stores