If you're frustrated by the stacks of receipts and other documents piled up on your desk and you're looking for a way to quickly scan them without investing hundreds of dollars in a new desktop scanner, you'll find a friend in the Scanbox. The product, which is currently a Kickstarter project, is an easy to use "portable scanning box" that leverages your smartphone's camera to take high quality scans, according to the manufacturer.
The Scanbox is essentially a collapsible box that holds your smartphone in place so you can use its built-in camera as a scanner, and it is held together by powerful mini magnets. When not in use, the Scanbox folds flat for easy storage or transportation. It measures just 9.05 inches x 12.2 inches when folded, and it is slightly taller and wider than an 8×11 sheet of paper.
Scanbox is optimized for the iPhone 4 and iPhone 4S, but it will also work with other smartphones. Scanbox is not just for capturing images of receipts; it can also be used for all kinds of product shots and scans. When used along with an Apple TV and a smartphone, Scanbox can serve as a live projector for presentations. And it can be a makeshift photocopier when paired with an AirPrint-enabled printer.
The Scanbox Plus has a set of LED lights to adjust for shadowy lighting, and it has a light diffusing back flap to reduce lens flare. The LED lights are powered by a nine-volt battery.
Scanbox works with most modern smartphones.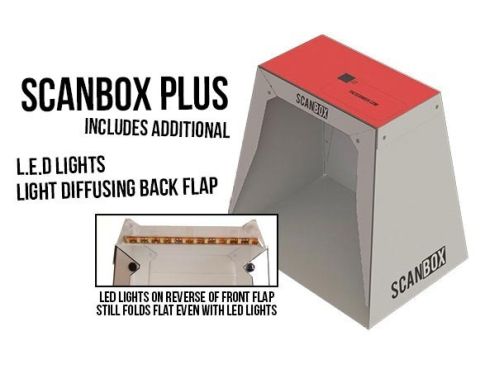 The Scanbox Plus comes with an additional light diffusing back flap and LED lights.
Scanbox is available in red, blue, pink, green, black and orange.
A pledge of $15 (or more) gets you a Scanbox, and a pledge of $25 (or more) gets you a Scanbox Plus. An extra $3 is required for shipping within the United States or Australia, and shipping costs $10 to other International destinations. With $147,000 already raised, the project has far exceeded its initial goal of just $12,500.
The Scanbox was designed by Phil Bosua, Ben Hillier and Luke Allen, all of Melbourne, Australia, over 3 months, and it is patent pending. With an expected ship date of July or August, the project's funding period will end on Saturday July 7, so you have another 11 days to check it out. You can also read more about the product at this FAQ on the new www.thescanbox.com website.