How many mobile applications have you used that offer "Vice" and "Agony" as search categories? Never mind; I don't want to know.
Hipmunk for iPhone, iPad and Android is one such app. It's a delightfully simple airfare and hotel search app (as well as a website) that visually conveys complex travel data. (I tested version 2.0.2 on my iPad.)
Let's say you're looking for a hotel in San Francisco. You just select the city as your destination and Hipmunk displays a list of hotels along with their locations on a map.
You can get more information on specific neighborhoods by selecting one of Hipmunk's six "heatmap" options. If you're particularly interested in a hotel with lots of nearby shopping, for instance, you'd select the "Shop" heatmap. Hipmunk refreshes the hotel map with a color-coded index to show you the hotels that are in the "hottest" neighborhoods for shopping (see screen shot below). And the hotel list includes room rates as well as TripAdvisor ratings. In the age of info-overload, Hipmunk's hotel search and heatmaps help you quickly cut through the clutter.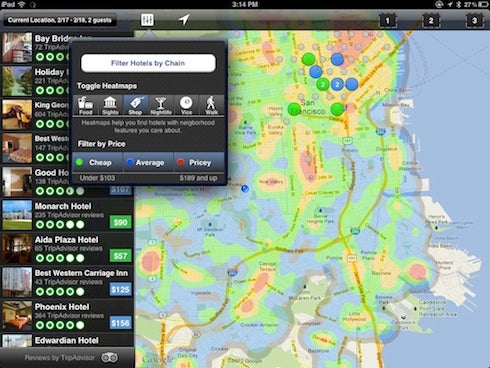 Feeling a Bit Daring or Mischievous?
One of Hipmunk's heatmap options is the aforementioned Vice, which displays neighborhoods known for, shall we say, adult activities. Hipmunk doesn't provide specifics on the exact vices in which you can indulge. It simply points the way, and you can then follow or avoid at all costs.
As helpful as Hipmunk's hotel search tools are, the app was of absolutely no use when I searched for hotels in Bend, Oregon. I plan to be in the area in the near future to attend a wedding, and I wanted to use the app to find a hotel in town. But Hipmunk couldn't find a single hotel in Bend. Hipmunk couldn't even find any of the small bed and breakfasts or lesser-known hotels around my San Francisco neighborhood.
Sorting Flights By "Agony"
Hipmunk's flight search helpfully displays results on a timeline-like graph. You can view the results by Agony, which is defined as the accumulated impact of price, flight duration, and number of stops; Cost; Departure; and Length. And as someone who wants to spend as little time as possible flying, I love the ability to visually pick flights by their length.
When you select both legs of an airline itinerary, Hipmunk presents a "book this trip" dialog box, which lets you go to a relevant website to buy a ticket. Alternatively, you can email the booking link to yourself or others, though the email I sent to myself didn't include the price of the itinerary.
Hipmunk also doesn't allow you to search for multi-leg trips, though the Hipmunk website offers that feature.
I appreciate Hipmunk's visual approach to complicated data, but the app won't be replacing Kayak Mobile on my iPad (which is also free and also available for iPhone and iPod touch, as well as Android, Nokia Phones, and Windows Phone 7).
Kayak offers more relevant search and filtering options, in my opinion. For example, with Kayak, I can search for one-way, round-trip, or multi-city airline itineraries, and I can filter results by airline, number of stops, airports, times, and price. Though Kayak's hotel search doesn't incorporate heatmaps or TripAdvisor reviews, it's fairly thorough—and it had no problem finding hotels in Bend, Oregon.
Ultimately, the Hipmunk app brings simplicity and a sense of humor to travel planning—along with a bit of Vice and Agony.