It seems everyone in a hospital is tapping apps on an iPhone or iPad these days, from doctors to nurses to patients. Even surgeons want to play Angry Birds while calling out for scalpels. But are iPhones and iPads really a good fit at places where cleanliness is paramount?
We already know that iPads proved to be more durable in the grungy field service industry than critics gave them credit for. That is, iPads have been spotted at construction sites around the country. In fact, iPads have been used in all sorts of dirty work environments.
Slideshow: 15 Ways iPad Goes to Work
On the flip side, are iPhones and iPads clean enough for hospital work? Hospitals already have emerged as leading iPad and iPhone adopters. Apple claims over 80 percent of the top hospitals in the U.S. are either testing or deploying iPads, despite concerns from at least one CTO at Seattle Children's Hospital. Doctors at Texas Health Resources, a healthcare provider with 24 hospitals, use iPads to make them more mobile, which, in turn, lets them spend more time with patients.
Now here's the problem: This fall, Stanford University released results of a study that shows touchscreen phones are petri dishes for germs. The average cell phone has 18 times more bacteria than a toilet handle in a men's public restroom.
The two probably go hand-in-hand since it has become common for some phone users to send and read text messages while in the bathroom. Want proof? Really? Here you go: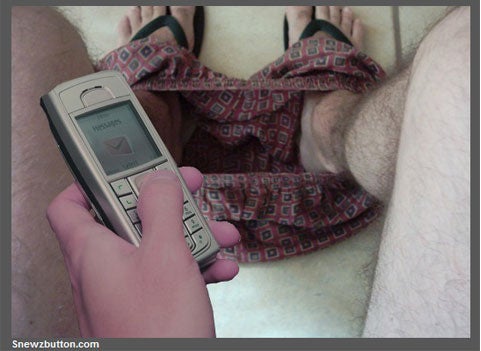 Slideshow: 12 Types of Cell Phone Users That Drive Us Nuts
Maybe it's just me but I don't want my doctors, nurses or surgeons using dirty touchpads while providing care. They already use masks, latex gloves and scrubs – not to mention washing their hands religiously – to prevent the spread of germs. I like hospital things to be sterile, or at least as clean as they can be.
And so does Chris Magrane, inventor of the medical-grade iPad and iPhone Frog Skin, a clear film covering iPhones and iPads so that they can be washed. You can even access iPad and iPhone apps through the film.
Washing germs from touchscreens sounds great, but this implies the use of water. Yes, water is public enemy number one for iPhones and iPads. Like a Shakespearean tragedy, water killed my iPhone 3GS. But Frog Skin is completely waterproof.