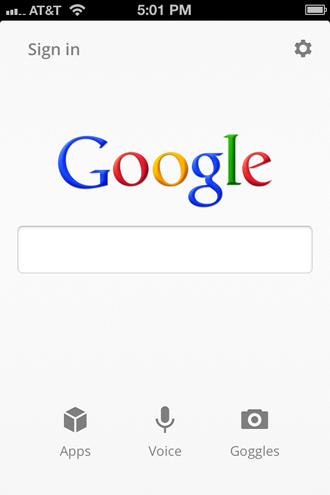 Google's privacy policies offend me, and its immense size and growing political clout make me queasy, but I've got to admit it, the company really does great things with search. I was reminded of that the other day as I was browsing through an official Google company blog and came across a post about the update of the Google search app for iOS, which I hadn't noticed.
Google has given the app a major facelift that boasts faster results, a place to access all of your apps, and beautiful, full-screen images. The home screen has the usual Google logo and search bar, with three icons at the bottom: one for apps, one for voice search and a third for Goggles.
You can search by typing a query or by clicking the microphone icon and saying what you're looking for. Being deep into the baseball season, I told it to search for the "San Francisco Giants," and immediately got a page with the results of Thursday's game against San Diego, lots of news stories and color photos.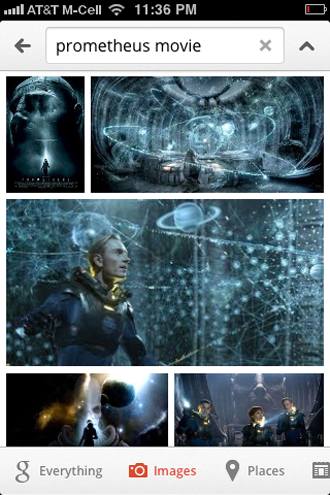 The interface is very simple, but well thought out. Rather than having to tap a back button when you're on a results page, simply tap a little icon in the upper right hand corner and you're back to the start page. Tap that icon again, and there's the results page. Once you go to a Web page using the app, you can swipe to go back and forth between the results page and the Web page. Very cool.
Google says autocompletion happens faster in this version of the app; I haven't compared it to the old version, but it is really quick. I typed "pro" and immediately got a bunch of hits about Friday's release of Prometheus, the highly-anticipated new Ridley Scott Sci-Fi flick.
Tap the images button at the bottom of the search results page, and high-resolution images load into a grid. Browse the images by scrolling down the full-screen grid, or tap on a single image to get details about it and then quickly swipe from image to image. You can also tap and hold an image to save it to your camera roll to use as your wallpaper or share it via email or SMS.
I've never had much luck with Goggles, which tries to match images you photograph, and it didn't work very well when I tried it via the search app. But that quibble aside, the updated app is a pleasure to use, and it is, of course, free.