The Audyssey Audio Dock Air joins the growing ranks of AirPlay-technology-compatible speakers, and despite being smaller than the size of most subwoofers, it's a full-fledged wireless speaker that delivers powerful bass. With design in mind, Audyssey opted to take an AirPlay-only route; the speaker doesn't have an Apple dock.
The Audyssey Audio Dock Air has two four-inch woofers, two three-quarter-inch tweeters and two four-inch passive bass radiators that are evenly distributed on both sides. The speaker components are covered by fabric that tucks into a rigid metallic band around the speaker. A sturdy plastic frame contains a volume dial and two status LEDs. A 3.5mm line input is located on the speaker's back panel beside a button that initiates AirPlay pairing, and the front panel has a 3.5mm output for headphones. An external AC adapter that's somewhat oversized given the relatively modest power rating powers the speaker.
Setting it up was relatively straight-forward. You just press and hold the "PAIR" button on the back of the Audio Dock Air until it enters setup mode. From a laptop or iOS device (I used Safari on my iPad), you connect to the temporary Wi-Fi network called "LES_AudioDock_Air_Setup" before browsing to http://192.168.1.110. Once there, you can choose your Wi-Fi network from a drop down list and then complete setup by keying in the correct password and device name. Finally, you click "Apply" and wait a few minutes for the Audio Dock Air to connect to your Wi-Fi network.
You can click on the volume dial to mute the Audyssey Audio Dock Air.
My Experience with the Audyssey Audio Dock Air
Locating the speaker cones on the gadget's opposite ends definitely helped to fill up my room with sound. The Audio Dock Air delivers good quality sound. Bass response is superb and really shines at low-to-mid volumes, thanks to Audyssey's BassXT technology and the four-inch passive bass radiators. And the bass doesn't seem to scale linearly as the volume boosted, which probably has to do with internal sound equalization.
I particularly like how the Audio Dock Air's diminutive size lets it hide in practically any part of the room or when placed on the floor or under a table. Its classy design also means the speaker blends in when placed in visible locations, such as on a bookshelf or on a desk.
In my tests, the Audyssey Audio Dock Air suffered sporadic disconnects, which is a common issues with AirPlay speakers. Wi-Fi reception is somewhat weak too, and its inability to determine Wi-Fi signal strength can make avoiding blind spots challenging. When starting playback or switching tracks, it takes five or six seconds for the music to start. This was slightly slowly than the Logitech UE Air Speaker I recently reviewed, but better than a number of other AirPlay speakers I've used.
Side view of the Audio Dock Air with flash to show the approximate placement of the actual speaker cones. (They are not visible under normal lighting)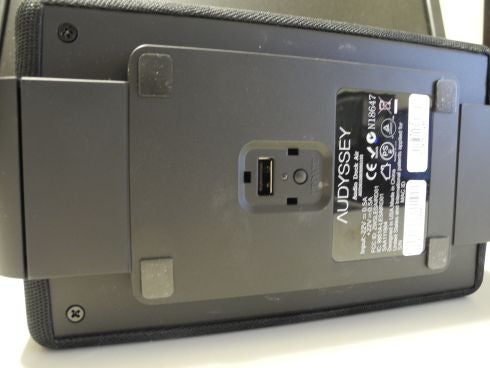 A USB slot under the Audio Dock Air suggests that it may be upgraded in future.
Audyssey Audio Dock Air: Conclusion
With a price tag of $400, the Audyssey Audio Dock Air isn't cheap. It also doesn't have an iOS app that can be used to tweak the sound parameters, an Apple dock or even a LAN port for a wired fallback option.
Yet for all of its flaws, the Audyssey Audio Dock Air has an undeniable appeal, and it could be great for use in a dorm room or when tucked into a corner of the living room. It has excellent bass performance, and overall music playback was clear and crisp. Audiophiles obsessed with flat frequency response will probably want to steer clear, but folks looking for a versatile, high-quality speaker will find a friend in the Audyssey Audio Dock Air.