This week Research In Motion (RIM) opened a brand new BlackBerry retail store in Bangalore, India, where the BlackBerry brand is alive and well. The Bangalore location is RIM's third BlackBerry store in India, and the company plans to open another dozen Indian retail shops by the end of 2012. (In the United States, RIM has just one standalone BlackBerry store in Farmington Hills, Mich., about 25 miles outside of Detroit, and a number of BlackBerry branded kiosks in airports across America.)
Microsoft opened its first brick-and-mortar retail store in October 2009 in Scottsdale, Ariz., and it now has 18 total stores open across the United States, with another half dozen "coming soon," according to the company's website.
I bet you've been to an Apple store—or five—before. They're everywhere. Apple has stores in 45 of the 50 states and in the United Kingdom, Japan, Canada, Italy, Australia, China, Switzerland, Germany, France, Spain, Hong Kong and the Netherlands.
To accurately compare the looks and feels of these three tech giants' retail stores, I tried to find shops in similar, shopping-mall-like areas. Each of the stores pictured are in very different markets, and therefore cater to different audiences, but the images are telling. Products aside, which store would you be more likely to shop in, based on appearance alone? Microsoft has my vote.
On first glance, the Microsoft store looks an awful lot like an Apple store, but less white and sterile.
The BlackBerry store looks very colorful and cluttered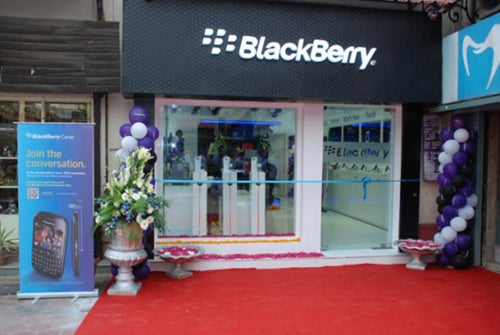 Storefront of Gurgaon, India, BlackBerry store
Indian BlackBerry store opening
Inside BlackBerry store in Gurgaon, India
Inside the Apple store looks a lot like a hospital waiting room filled with shiny gadgets.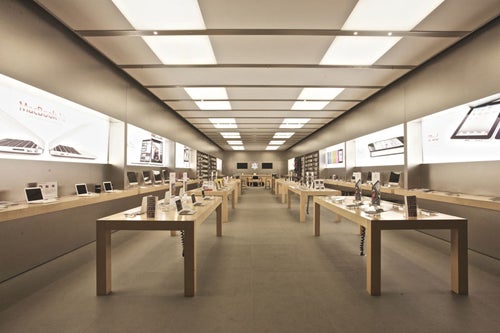 AS
BlackBerry store images via BBin.in
Microsoft store images via seantoyer on Flickr
Apple store images via Apple.com and EcoTechNinja.com