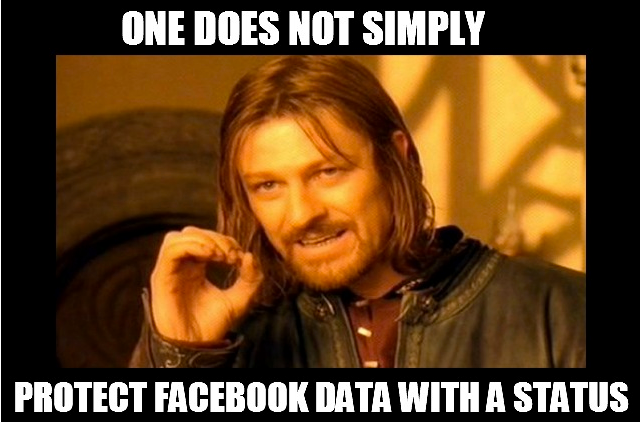 Every so often, a bizarre Facebook update warning others about the social network either a) charging users or b) making some sort of privacy change goes viral. And, of course, the message requests that you repost it so a) your account remains free or b) you join with others in solidarity to band against Facebook making this change.
This week, it was the latter.
An official looking and sounding message capitalizes on Facebook's new status as a publicly traded company and warns you that unless you post a disclaimer specifying that you forbid organizations and other people from using your Facebook information, you'll lose the rights to your own data. Here's the entire message:
For those of you who do not understand the reasoning behind this posting, Facebook is now a publicly traded entity. Unless you state otherwise, anyone can infringe on your right to privacy once you post to this site. It is recommended that you and other members post a similar notice as this, or you may copy and paste this version. If you do not post such a statement once, then you are indirectly allowing public use of items such as your photos and the information contained in your status updates.

PRIVACY NOTICE: Warning – any person and/or institution and/or Agent and/or Agency of any governmental structure including but not limited to the United States Federal Government also using or monitoring/using this website or any of its associated websites, you do NOT have my permission to utilize any of my profile information nor any of the content contained herein including, but not limited to my photos, and/or the comments made about my photos or any other "picture" art posted on my profile.

You are hereby notified that you are strictly prohibited from disclosing, copying, distributing, disseminating, or taking any other action against me with regard to this profile and the contents herein.

The foregoing prohibitions also apply to your employee, agent, student or any personnel under your direction or control. The contents of this profile are private and legally privileged and confidential information, and the violation of my personal privacy is punishable by law. UCC 1-103 1-308 ALL RIGHTS RESERVED WITHOUT PREJUDICE
Yesterday, Facebook responded and quickly put the rumor to rest:
" We have noticed a recent status update that is being widely shared implying the ownership of your Facebook content has recently changed. This is not true and has never been the case. Facebook does not own your data and content."
So there you have it. Please, do a little research before reposting a status update.