Continuing with my exploration of the top 10 free apps in Apple's iTunes store, let us now consider the curious case of Socialcam.
Socialcam, the social "Instagram for video" app developed by Justin.tv, is currently the number one free app in Apple's iTunes App Store. The latest version (4.3) has an average user rating of 4.5 stars. Socialcam has had a meteoric rise and now has more than 50 million users, according to CNBC. Socialcam's Facebook page has 22,892 likes, with 4,348 Facebook users talking about it.
This must be an insanely great app, to borrow a phrase from Apple, right? What's interesting to me is that when you dig a little deeper, not everything seems so great.
Three of Socialcam's current top four reviews in iTunes are fairly damning. "SCAM," says one. "THIS IS AN APP FROM A HACKER! He/she is just going to be able to access your Facebook profile and get your email address so they can send spam to you or people on your friend's list. DO NOT DOWNLOAD THIS APP!!! I repeat – DO NOT DOWNLOAD THIS APP!!!"
And then there's this article from All Things D, which states: "Using a combination of fortunate timing, Facebook's Open Graph influence and a new way of playing the system, Socialcam has effectively gamed Facebook, YouTube and the App Store to keep a strong grip on that ever-so-valuable user base."
The article speculates that Socialcam's swift rise to the top hasn't been entirely user-generated. "Socialcam began scraping video content from Vevo and YouTube to add to its own network of users, which essentially amounts to ripping content directly from other services," the article says.
Socialcam CEO Michael Seibel responded to All Things D's reporter by saying that "to the best of our knowledge, we are not violating the terms of service of either company (Facebook or YouTube)."
So is Socialcam a social scam? Or is this simply evidence of a backlash brewing against a suddenly popular app? And more importantly, does any of this really matter?
I'll leave the first two questions for others to decide. As for whether or not it matters to you, my answer is: Not much. That's because Socialcam, however it achieved its top position in the iTunes store, is a perfectly good little app that does what it promises and costs you nothing in the process. (It's also available free for Android.)
Socialcam enables you to shoot video clips using one of nine filters, such as Grunge, Noire, Vice, and 1970s (or no filter at all). You can add a stylized intro title to your clip as well as a music soundtrack. The music sometimes drowns out the video's audio, however, and once you've added music and saved the video, there's no going back to removing the soundtrack.
When your mini masterpiece is done, you can upload it to Facebook, Twitter, YouTube, Dropbox, Posterous, or Tumblr. Socialcam also lets you view, like and comment on other videos.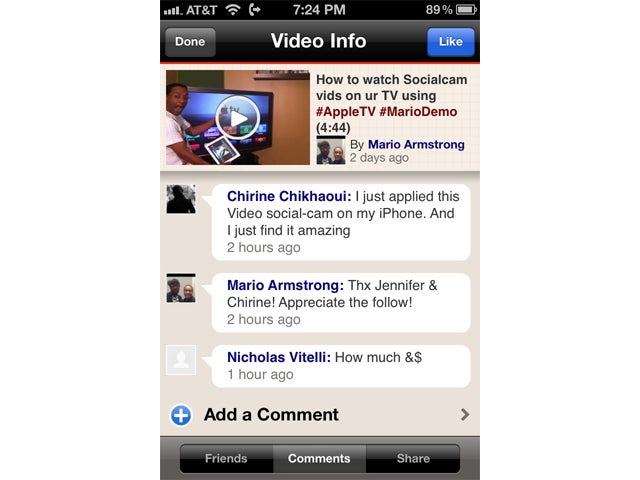 Alternatively, you can keep your videos private, upload them to Socialcam's cloud and invite select people to view it via email. You can also upload and add titles and music to existing videos in your Camera Roll.
And yet, Socialcam hasn't wowed me, mainly because it feels so familiar; the often-used description "Instagram for video" seems appropriate. Socialcam doesn't feel revolutionary. Nor is it unique—other popular, free social video apps like Viddy are available. Socialcam may be, at least at the precise moment I type these words, the most popular free app on iTunes. But I have to wonder, for how long? It's relatively easy for any app developer to game the Top 10 systems in app stores and elsewhere. Holding onto a top 10 position over time with a product that's good, not great, is another challenge entirely.