The G-Technology G-RAID mini is a portable high-performance dual-drive external storage system. The two hard disk drives (HDD) in the storage device can be set to RAID 0 for optimal performance or RAID 1 for fail-safe operation. And the G-RAID mini's back panel has four high-speed interfaces to connect to your PC: USB 2.0; eSATA; and two FireWire 800.
The G-RAID mini is designed for mobile professionals, according to G-Technology, and many businesses will appreciate the data protection that's afforded by the gadget's RAID 1 mode.
The design of the all-aluminum enclosure looks great, and it helps dissipate heat so the portable storage system feels only slightly warm when in use. A fan on the bottom is whisper quiet so it should not be noticeable in most office environments.
RAID on the G-RAID Mini
My 1TB review unit came with RAID 0 configured, which offers no protection against data HDD failure. Switching modes requires the RAID configuration software, which comes with the drive on a CD. The software tool was outdated, however, and I had to download an updated utility from the company's technical support site to switch the device to RAID 1 mode. (The 64-bit version of the utility on my Windows 7 Ultimate 64-bit laptop was unable to detect the device, so I eventually used the 32-bit version of the RAID tool on another laptop.)
The back panel of the G-RAID mini. From left to right: eSATA; FW800; FW800; USB 2.0; and AC adapter.
Switching modes was as easy as detecting the G-RAID mini running the RAID Configurator tool, and then clicking the desired mode and a confirmation button. Re-initialization, partitioning and formatting is required before the drive is ready for use after switching modes.
G-RAID Mini: My Experience
I did a couple of tests while connected via USB 2.0 to my laptop in RAID 1 mode and formatted with NTFS. Transfer speed while copying a 6.4GB DVD image was about 29.2 MB/s. Copying data from the G-RAID mini to another source was slightly faster at 31.9 MB/s. These speeds may be limited by USB, and you may see better performance using eSATA and FireWire.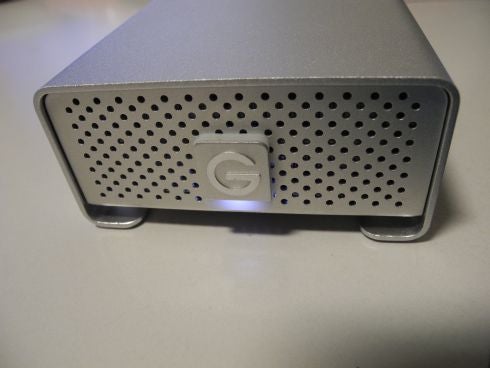 A white LED light on the front panel flashes when there is activity.
G-Technology says raw transfer speeds may not necessarily equate to real-world performance. The company also claims the G-RAID mini supports simultaneous playback of multiple layers of video in real-time in Final Cut Pro, Premiere and Xpress Pro.
I wasn't able to test it in eSATA mode, but G-Technology says that the G-RAID mini delivers data-transfer rates of up to 120MB/s using eSATA in RAID 0. Such speeds would be great for on-the-go use via USB 2.0 on a laptop or copying data from the drive to a desktop system using the much faster eSATA interface. And the G-RAID mini can be bus-powered by FireWire when on the go, even when eSATA is used.
G-RAID Mini: Conclusion
The G-RAID mini is available in 1TB and 1.5TB (for 7200RPM HDD) capacities, and it costs $299.99 and $399.99 respectively. G-RAID mini is backed by a 3-year factory warranty.The devices are expensive for portable storage systems, but the valuable data protection features help justify the price.
I would have liked to see the G-RAID mini preconfigured with data mirroring mode (RAID 1) when shipped, for this reason, instead of having to be manually configure it.
A 1.5-inch fan on the bottom of the G-RAID mini help keep the two HDDs cool.
Side profile of the storage system.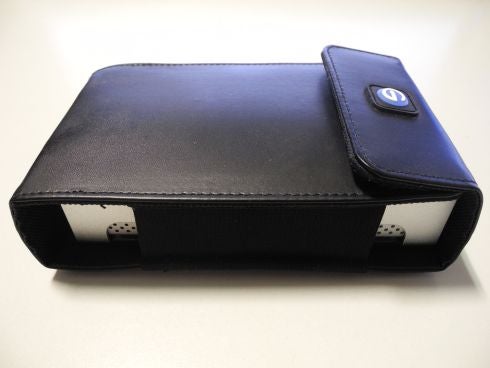 The G-RAID mini comes with a handy case that fits it snugly.