Texts, tweets, Facebook, Google+, email. You can communicate in lots of ways these days, but sometimes you just need to talk. As in over the phone. And not just to one person at a time, but a whole group. And that means conference calls.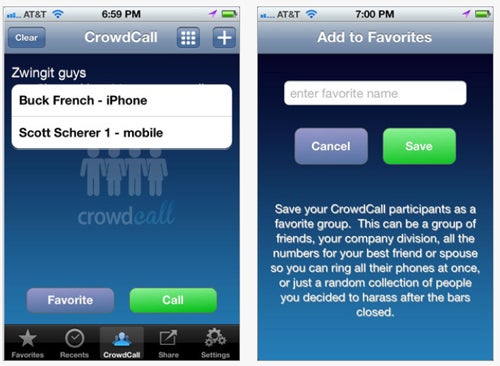 If you're like me, you've been on lots of them. Someone sends you an email with a phone number and a PIN or confirmation code. You dial-in and hope that the line isn't busy. Or the company providing the call service doesn't put you on hold so long that you miss the beginning. Or the person who organized the call didn't send you the wrong PIN so you're locked out. Frankly, it's a pain.
That's why I was happy to learn about a new twist on conferencing calling that takes that pain out of setting up and participating in a group calls: CrowdCall. It's a free app and service that works on your iOS or Android smartphone or tablet, and it doesn't require anybody but the conference organizer to download the app. CrowdCall lets you conference in as many as 20 people for up to an hour. Participants can be reached for free in 40 different countries.
Once you've downloaded and launched the app, it prompts you to add participants for the call. You press the "plus" button and then select people from your address book. When you've got them all lined up, you simply press "call." At that point, your phone calls the CrowdCall servers, which call everyone on the list.
When participants phones' ring, their caller ID lets them know it's you calling. When they answer, they're told by a recorded voice that they are invited to join a conference call, and they're asked to "press one" to join. That's it. Did I mention the service is free? CrowdCall lets you call friends in other countries without incurring foreign call charges because you don't call your pals in England; CrowdCall does. (Some countries are not free to call, but a list inside the app lets you know which ones.)
You can save the names and numbers of people on a call as a group so it's ready to go the next time you want to conference in the same folks.
You can also use it for tasks that you'd never have bothered to do via conference call in the past. For example, I can call my two daughters and actually make plans with all of us on the line instead of swapping an annoying series of texts (their favorite) or an email chain. If I want to have a quick meeting with a few of my fellow union members, I can call with CrowdCall.
Because I don't have good cell phone reception in my home office (thanks AT&T) I can simply select my landline as a participant in the call and answer the phone when it rings.
With just a few people on a call, quality has been fine. At some point, I'll try it out with a larger group and if there's a problem I'll update this post. When I met with Randy Adams, the CEO of Socialdial, the developer of CrowdCall, I was under the impression that the app allowed you to schedule calls in advance and send text messages to participants as a heads up. I wasn't able to get either of those functions to work; perhaps they will in future versions of CrowdCall. A competing app, FreeConferenceMobile, reviewed by my CIO colleague James Martin in March has these features, but the lack of them in CrowdCall is a relatively small issue, at least for me.
CrowdCall won't make your next conference call any less boring or annoying. It will, however, make it much easier to manage, and that's a step in the right direction.