Toward the end of last year, I wrote a blog post arguing that Microsoft was too big to fail, that consistent revenue growth and a tight grip on the enterprise with Office and Windows 7 and Windows Server licenses will see Microsoft through mobile fiascos and the departures of various executives.
I still stand by the notion that Microsoft can weather the post-PC world storm. But lately some chinks have been showing in the armor.
The problem is that heavy cash cows like Office and Windows — which in Microsoft's defense are changing with the cloudy times with Office 365 and the upcoming Windows 8 – have kept the company embedded in a PC world, and we all know the world is shifting toward mobile: smartphones, tablets, mobile apps and the cloud.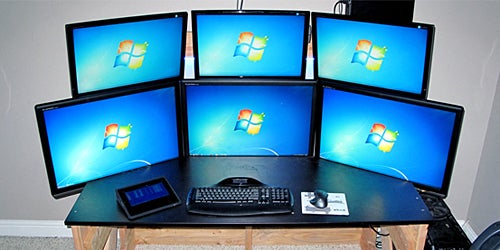 It's so hard to say goodbye to yesterday….
Microsoft has been slow but steady in its move to these areas, and it will continue to do so with Windows Phone, Windows 8 and Windows RT, and Office 365. But in watching the company, I get the sense that Microsoft isn't comfortable leaving home (i.e. the PC). It would rather sit on the porch and yell, "get off my lawn!" But it can't.
And so we see some nickel-and-diming with the recent Microsoft Signature deal where consumers are being asked to pay Microsoft $99 to remove OEM bloatware from current Windows 7 PCs, a task any user can do on their own from the Windows Control Panel. Really? 100 bucks to remove [Insert PC maker here] crapware from a PC I already purchased? Really?
Not only is that $99 fee insulting, it makes the Windows-based PC itself seem like a relic. I'm not saying Apple is perfect, but you don't see customers walking into Apple stores to pay Apple to remove third-party promotional trialware.
CIO.com's Bill Snyder delivered a rant on Microsoft Signature in a recent "Consumer Tech Radar" blog post.
And on a more serious note, Microsoft is engaged in some fishy tactics to keep competitive browsers from working to the fullest on its upcoming ARM-based OS for tablets, Windows RT: eerily reminiscent of Microsoft's late '90s anti-trust battles. As Mozilla and Google complain to the federal government, this situation could get ugly.
A recent article on NetworkWorld by Mark Gibbs touches on these tactics and others and asks, "Is Microsoft is too old and big to survive?" It's a valid question to ask as the old dog from Redmond tries to learn new tricks.
Nevertheless, one thing to keep in mind if you're going to write off Microsoft: The company has an uncanny ability to endure and prevail. It has war chest of cash and remarkable patience. Though recent ploys leave me wondering if Microsoft is getting desperate, I can never say die.