My colleague, Al Sacco, has a cool pic of an ice cream sandwich smashed on top of an Android smartphone in his blog. Message being, of course, that getting Android 4.0 Ice Cream Sandwich into an actual Android phone is turning out to be very messy.
I, myself, am lactose intolerant and use an iPhone.
So here's my related pic: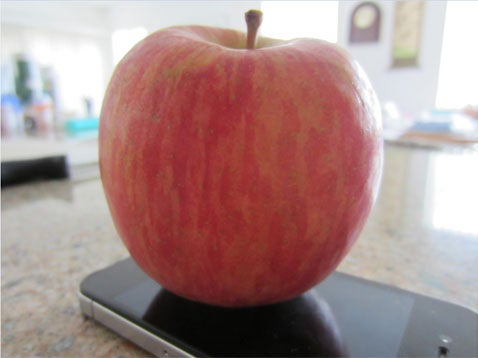 It was the biggest apple I could find in my house. While not as fun as Al Sacco's pic, my pic also has a message.
We all know that the "S" in the current iPhone 4S stands for Steve. The upcoming iPhone, which could potentially have a new and different design, won't have an "S." The new iPhone will be CEO Tim Cook's calling card.
Will he deliver under the crushing weight of Apple expectations?
Cook and a post-Jobs Apple need to do more than deliver homerun financials. A new Apple has to reignite the base and show it still has the courage to give customers not only what they want now but what they will want in the future.
Can Apple surprise people with exciting technology, and not merely stick on a new and boring name for the iPad, which it did in March?
It's risk time, and the pressure is on.