Given Microsoft's monopolistic past, it's not surprising that Mozilla and Google are making a stink about Microsoft's decision to favor Internet Explorer on Windows RT, the company's upcoming OS that will run on ARM-based devices.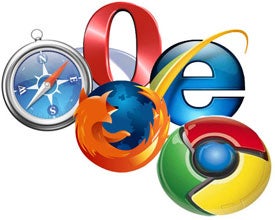 Last week, Mozilla alleged that Microsoft is unfairly putting the Internet Explorer browser (IE10) at an advantage within Windows RT by restricting third-party browsers like Firefox and Chrome to the Metro sandbox with shaky API support, and also blocking the desktop versions of those browsers on Windows RT.
Meanwhile, a fully-functional Metro version of Internet Explorer 10 will roll out on Windows RT devices and a desktop version of IE10 will be the only browser that will run on the Windows RT desktop.
(I know it's confusing, but to clarify: Both Windows 8 and Windows RT have a Metro user interface and a separate traditional desktop interface that looks almost exactly like Windows 7. On PCs running Windows 8 using x86 chips from Intel and AMD, Chrome and Mozilla Firefox desktop browsers can operate on level ground with IE as they always have. Mozilla's gripe is with the Windows RT desktop, not the Windows 8 desktop).
Google recently joined Mozilla in complaining, though neither company is pursuing a formal antitrust complaint yet. However, a Senate Committee probe may be in the works.
Navigating Windows 8: A Visual Tour
Mozilla is justified in getting hot under the collar over this. But the company is a tad paranoid, no? Microsoft is not in a monopolistic position at all with Windows RT. In fact, it's in an unenviable bottom of the totem pole position in a tablet market dominated by the Apple iPad. Windows RT could very well be a bust.
In a recent blog post, ZDNet blogger and veteran tech watcher Ed Bott writes that given Microsoft's weak position on tablets and the slow decline of PC use, Mozilla and Google don't have a leg to stand on with their allegations.
"Anyone expecting a sequel to United States v Microsoft is in for a big disappointment … We are hardly in a post-PC world yet, but the landscape of personal computing has changed dramatically since 2001, when Microsoft was judged to have abused its Windows monopoly. The new battleground is mobile computing, and Microsoft not only enjoys no monopoly there, it is far behind Apple and Android."
In addition, Windows RT will mostly be a tablet OS and using a traditional desktop and desktop browser on a tablet is awkward and tedious.
Only a few apps will be able to run in Windows RT's desktop environment anyway, including the IE10 browser, the Windows File Explorer and an ARM-compatible version of Office. Most applications will be reserved for the Metro-designed Start screen. In essence, Windows RT desktop is there as a backup plan, and hardly a case for antitrust allegations, especially from a litigation target like Google, which created an operating system, Chrome OS, that can only use the company's Chrome browser.
It's widely presumed that Windows RT tablet users will use the Metro tile-based UI to do all their touch-based tasks. That is the whole point of Metro. Mozilla and Google are free to develop Metro-designed versions of their browsers for the Metro Start screen and both are doing so.
But there is a caveat.
Metro-friendly versions of the Chrome and Firefox browsers will be operating in a sandbox without access to some important APIs that IE does have access to. (For more more details on Metro APIs not available to non-Microsoft apps, click here).
All of which does strengthen Google and Mozilla's case that Microsoft is intentionally blocking the full use of competitive browsers on Windows RT.
What do you think? Does Mozilla and Google have a case? Can Microsoft rationally defend bundling its IE10 desktop browser on Windows RT because it is new to the tablet space?