Unless you live under a rock, you're probably familiar with the late Steve Jobs's June 2010 declaration about the "post-PC era," which Jobs said was just starting. Jobs compared PCs to trucks and mobile device to cars at the D8 conference and said that PCs were really only required by a small percentage of users. Jobs said mobile devices will be used far more extensively than computers in the future and that PCs will be used only for the occasional "heavy lifting."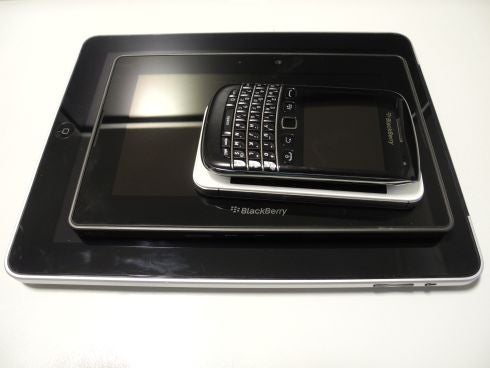 CIO.com blogger James A. Martin, who writes about Mobile Apps, opined earlier this week that he is "not living a post-PC existence yet." Martin's reluctance to embrace the "post-pc revolution" stems from the fact that many mobile apps are missing basic functionality typically found in desktop software. Like Martin, I find often myself reaching for my trusty laptop when doing serious writing, though I do enjoy the occasional stint of work on my iPad with a keyboard like the Logitech Ultrathin Keyboard Cover.
On the other hand, you could argue that the device of choice all depends on the specific task at hand. Just because a tablet doesn't meet your needs, does not mean that it will not adequately serve the needs of another person. If anything, the ongoing sales of millions of tablets and smartphones seem to back this side of the argument. And it's clear that there is a certain amount insatiate demand for mobile and portable devices. So what effect does this explosion of devices have on gadgets? I'm glad you asked.
In a bid to answer this question, I decided to tally up all the gadgets I've reviewed on Gadget Navigator since it launched in February. While decidedly non-scientific, my rationale in this experiment is that the blog posts here are a good representation of product pitches, recommendations from readers and items that has simply caught my interest. And as such, they offer a unique perspective on the influence of post-PC devices on other gadgets and electronics.
I sorted the blog subjects into categories based on whether they were designed specifically for computers, post-PC devices or devices that wwork with both computers and post-PC hardware.
The majority of gadgets I reviewed were actually designed for use with computers and not post-PC devices. However, the second largest number of gadgets were meant to be used with post-PC devices.
And then there's the Bring Your Own Devices (BYOD) trend. Modern workers are increasingly bringing their own personal tablets, smartphones and other devices into the workplace in addition to their work-issued laptops and desktop machines. Many tech-savvy businesspeople also tote two or more smartphones. (Read "The Case for Carrying Two Smartphones" for more on this trend.)
These developments will only serve to dramatically grow the market opportunity for gadget makers. These manufacturers are sure to try to capitalize on the huge and potentially lucrative market, and the post-PC era is certain to be packed with new gadgets–gadgets designed for PCs and post-PC devices.
What are some of the gadgets that you purchased recently? Are you satisfied with those purchases?