WaterField Designs Inc., creator of the Custom Fit SleeveCase for laptops, says proper notebook PC protection starts with a proper fit. The San-Francisco-based company will make Custom Fit SleeveCases for virtually any laptop. Each SleeveCase is made of high-grade neoprene wrapped in a ballistic nylon shell. And the Custom Fit SleeveCases are TSA friendly, according to the company.
The Custom Fit SleeveCase can be purchased as a stand-alone laptop-sleeve or as a bag with shoulder straps. If you choose to use the product as a stand-alone sleeve you can specify the "D-Ring" option when placing an order. If you want to use the sleeve as bag you simply specify what type of shoulder strap you want, and you're good to go.
To ensure the proper fit for your laptop, WaterField asks for horizontal and vertical measurements, and the company posted a video on how to get a suitable measurement using a tape measure. Additional information such laptop height, width and depth are also requested, though the company is flexible, and it will work with details such as the model number of laptops (and battery option where applicable) for newly purchased laptops that you may not have in hand to measure.
The Custom Fit SleeveCases are available in horizontal or vertical orientations, and you choose whether you want flap closure or not. "Lead Indium" or "Brown Leather" trim can be added to the Custom Fit SleeveCase, and you can also get an additional "Piggyback" pouch. The Piggyback is a small bag with two small metal snap-hooks that attach to the metal D-rings on the SleeveCase's shoulder strap. The removable pouch is a convenient way to carry accessories such as power adapters, mice, sync cables and other peripherals.
The neoprene that composes the WaterField Custom Fit SleeveCase isn't thick enough to save your laptop from a bad fall. But it is good protection against occasional bumps and knocks. And I am impressed by the impeccable stitching and overall craftmanship of the product, which is made entirely in San Francisco. As such, the SleeveCase should last for a long time.
The Custom Fit SleeveCase by WaterField costs $49 for a basic protective sleeve without flap, but you'll have to shell out $123 for the case with all the various customization options. The cost of the case may be a bit much if you plan to use it with a $399 netbook, but it is a reasonable price if you plan to use it with an expensive laptop. And the case sure is unique; I am not aware of any other company that makes customized laptop cases with the same kind of quality and style. The company also makes SleeveCases for Mac Laptops, the iPad and other tablets.
The WaterField Custom Fit SleeveCase hugged my Sony laptop to protect it against bumps and knocks.
The Custom Fit SleeveCase is available with Lead Inidium and Brown Leather trims; the latter is shown in the picture here.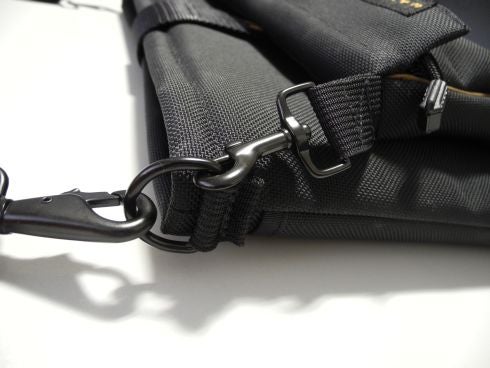 A close-up short of the D-ring on the Custom Fit SleeveCase with shoulder strap and Piggyback pouch attached.
The Piggyback has internal pockets to hold peripherals like computer mice and power adapters.
The Custom Fit SleeveCase is made entirely in San Francisco.