The NAD VISO 1 Wireless Digital Music System is a gorgeous high-end iPhone and iPod speaker dock that uses Bluetooth for wireless music playback. NAD says the VISO 1 utilizes a Direct Digital amplifier to eliminate all analogue circuitry for a digital-only performance, and for this reason it doesn't offer an analogue line-in audio port. The gadget has a sleek "ring design" and attractive shape along with simple, intuitive controls that combine for a minimalist-yet-elegant audio experience.
Setting up the NAD VISO 1 was simple; you just remove the speaker system from its box and plug the included power cord into an electrical socket. The VISO 1 noiselessly powers on when you depress the on/off button on its right side. No assembly is required, except for the button-cell battery that goes into the plastic remote control.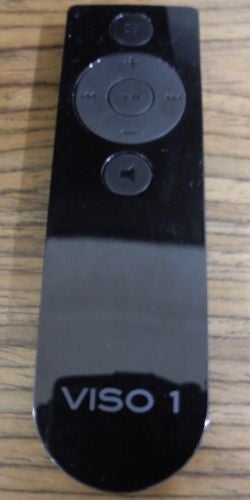 The VISO 1 supports three modes of music playback: From an iPod or iPhone docked to the built-in Apple-specific dock; via Bluetooth; and via an optical-digital input port that supports audio up to 24/96k from a TV or external media-streaming device, such as an Apple TV. NAD says the speaker, which supports the new apt-x audio standard, works with virtually any handheld device with Bluetooth.
The Apple-specific dock charges your iPod or iPhone when attached, and it can be rotated 90 degrees to hold your iOS device in a landscape orientation. And an adjustable rubber "gripper" means that you should be able to use your iOS device in the dock without removing its case.
I put the VISO 1 through the paces by playing music with my iPhone docked in the Apple dock and wirelessly using Bluetooth. Audio quality is impressive with vocals that come across clearly, though the highs were slightly less pronounced than I would have liked. What impressed me most was its ability to produce nuanced bass even at a low playback volume. The low notes become correspondingly more powerful with the volume jacked up, which made watching a movie on my Apple TV 2 and listening via the VISO 1 a rather enjoyable experience.
The high-quality black cloth that covers the speaker grills looks great and adds an expensive feel to the VISO 1, but it also attracts dust. And the plastic remote control is functional, but I found it be somewhat finicky for such an expensive speaker. Finally, I was also somewhat disappointed that the NAD VISO 1 doesn't support Apple's AirPlay wireless technology.
NAD VISO 1: Conclusion
Though the NAD VISO 1 is unlikely to replace your high-end home theatre system any time soon, its excellent audio quality and powerful bass means it still provides a solid sound experience in an good-looking package. Of course, at $930 it definitely isn't cheap, so you may want to at least evaluate other options before purchasing the VISO 1.
The prominent bass reflex port on the left offers powerful low-frequency performance.
The VISO 1 has a sleek profile. (Notice the Power button located on the right side of the speaker.)
The VISO 1's the input/output options are limited to component video output and optical audio input, but a USB port (top) opens the door for future upgrade.