Last week I heard that Facebook is testing a new feature called "Trending Articles"—an ugly and disruptive section that would appear in the middle of your News Feeds and list a handful of recommended articles.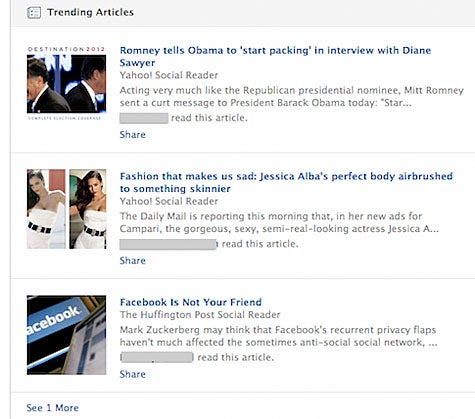 Facebook's first iteration of Trending Articles was panned widely and called everything from "out of place" to "obnoxious as hell." Some users reported mobile versions of this feature, too.
Earlier today, Trending Articles appeared in my News Feed—but in a much cleaner and less-invasive design.
This version of Trending Articles was the first thing I saw when I logged into Facebook, because it was featured at the top of my News Feed above updates from my friends. As my News Feed updated, the box traveled down along with the other content.
The new section also had a user-friendly scroll option to flip through the articles instead of the clunkier, longer list of posts. Trending Articles has since disappeared from my profile, but I did capture a screen grab of the design:.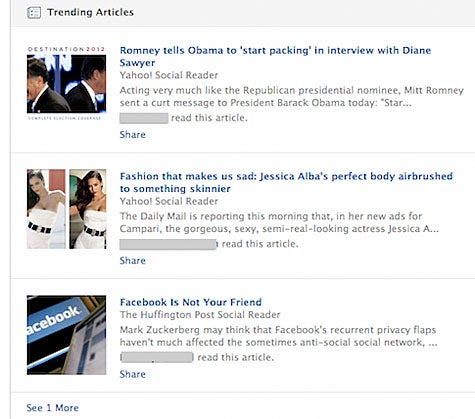 It's not clear what criteria Facebook uses to choose stories for its Trending Articles section, but it should be noted that they were from a variety of Facebook's social reader apps and tied to activity from a friend or person I subscribe to.
Last year, LinkedIn released a similar product called LinkedIn Today, a social news service that aggregates the top headlines and stories related to your industry and based on what your connections share. As Facebook tests its own version of a social news service, it's apparent that social networks want to be your hub for where you discover and read news, too.
I like the idea of Facebook's Trending Articles section, and its new design makes it easier to quickly browse headlines without interrupting the flow of the News Feed. Is this a feature you'd like Facebook to deploy to all users? Vote in our poll and leave a comment below.