Kensington's KeyLite Ultra Slim Touch Keyboard Folio is a slim and stylish wireless keyboard for Apple's iPad 2 tablet. The keypad has unique touch-sensitive keys that are liquid- and dust-proof, and the folio case serves as both an adjustable, two-position stand and automatic wake/sleep cover. The inside of the case is made of microfiber material that makes for easy handling, and it provides basic protection.
The KeyLite Ultra Slim Touch Keyboard uses Bluetooth wireless technology to connect to your iPad, and "pairing" the two devices is simple. You just turn on the keyboard and tap the touch-sensitive "Connect" key in the upper right-hand corner to activate pairing mode. Then initiate the connection process on your iPad. Once paired, the keyboard is ready for use. And the keys are roughly the same size as the iPad's on-screen, landscape keyboard.
An additional row of keys provides access to media functions such as Play/Pause, Previous Track, Next Track, and volume adjustment. The keypad also has a dedicated "Home" key and another key to turn the on-screen keyboard on and off. It also comes with arrow-navigation keys in the style of the Apple Wireless Keyboard, which I thought was a nice feature.
Due to its lack of tactile feedback, the Ultra Slim Touch Keyboard Folio really isn't great for rapid typing. The keyboard worked reasonably well for "hunt and peck" typing, and it detected my key presses well, but I wouldn't expect to perform rapid data entry using this keyboard. To Kensington's credit, the keyboard does come with a "buzzer" toggle that emits a "click" sound with each key press.
The real value of the Ultra Slim Touch keyboard is in the precious iPad screen real estate that it frees up by elimating the on-screen keys. And it may be useful for making small modifications to a spreadsheet when on the go or for making edits to a particularly long document., etc. On that note, I only recommend this keyboard for light data entry.
The Kensington KeyLite Ultra Slim Touch Keyboard Folio is priced at $119.99, but it's currently available for $95.99 thanks to a promotional offer.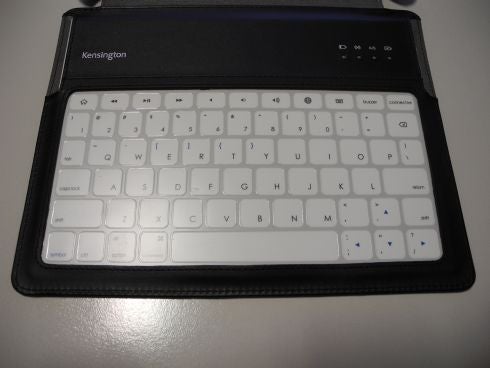 The touch sensitive keys of the Kensington KeyLite Ultra Slim Touch Keyboard Folio look great.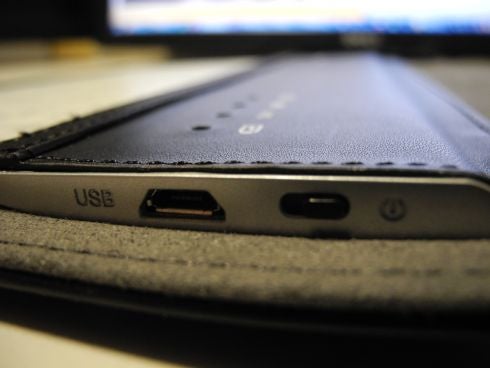 The micro USB port for charging and the On/Off switch are located on the right side of the KeyLite Ultra Slim Touch Keyboard Folio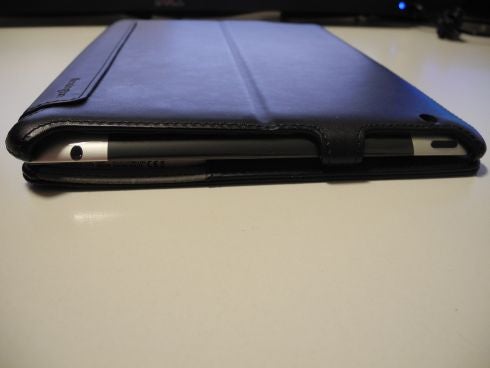 KeyLite Ultra Slim Touch Keyboard Folio: Ready to go.