Logitech's UE Air Speaker is the company's first AirPlay wireless speaker, it just started shipping a couple of weeks ago and the gadget was released under the "UE" brand–Logitech's acquired Ultimate Ears in 1998. Logitech says the UE Air Speaker delivers "stylish, modern design, easy setup and excellent sound." And I agree. Its retail price of $399.99 places it among Logitech's most expensive speaker, on par with the THX-certified Z906 speaker system.
For readers who aren't familiar with AirPlay, the technology from Apple essentially streams uncompressed music over computer networks from iPhones, iPads, iPod Touchs and iTunes to compatible devices for audio playback. The Apple TV, Air Port Extreme and Air Port Express all support AirPlay, and a number of additional third-party speakers and audio amplifiers also now incorporate AirPlay functionality.
Logitech hasn't really provided any specific technical specifications for the UE Air speaker, beyond its support for AirPlay and the presence of a retractable Apple dock. An auxiliary port on the back supports playback via 3.5mm audio cable, though it would defeat the purpose to buy an expensive AirPlay speaker and cables. In the absence of a Wi-Fi network, or if you prefer not to overload your limited wireless bandwidth with AirPlay traffic, you can also opt to connect the UE Air Speaker to a wired, Ethernet network using the built-in Ethernet port.
Logitech UE Air Speaker Setup
As part of a test to determine the ease of setup, I generally avoid reading instruction manuals. In this case however, I had to quickly thumb through the manual to determine how to connect the Logitech UE Air Speaker to my wireless network. While the guide wasn't exactly a tome, a quick-start card could have further simplified the setup process.
You can connnect the UE Air Speaker to a wireless network in two ways: 1) Using an iOS device and the UE app; or 2) with your PC's Web browser. I opted for the former. I simply docked my iPhone, and the dock redirected me to the download page for the Logitech UE Air app. Once installed, the UE Air app identifies the Wi-Fi network your iOS device is connected to and prompts for its password, if necessary. This information is passed on to the UE Air Speaker via the dock, and the speaker then connects to your Wi-Fi network.
Once connected, the UE Air Speaker appears as an output option in iTunes or your iOS device, as long as they are on the same network segment. A specific name for the device can be assigned during the setup phase, and that's a useful feature if you intend to use more than one speaker on the same network.
While the setup process was smooth, I was somewhat frustrated that there is no way to get the UE Air app to show my password while keying it in. The awkward angle–remember, my iPhone has to be in the dock for the app to work–caused me to mistype my 30 character Wi-Fi password a couple of times. A simple checkbox to "Show Password" would have been useful.
My Experience with the Logitech UE Air Speaker
I don't really consider myself an audiophile, but I can be rather particular when it comes to sound quality. That said, the music playback quality of the UE Air Speaker is fantastic, and it cranks out music at the maximum volume without noticeable distortion. In particular, I appreciate the excellent soundstage, which sounds like it belongs to a high-end home theatre system. Vocals reproductions are also good, which is notable because the UE Air Speaker is a single-speaker system.
Two rear-facing bass ports mean that bass has oomph, and individual bass and treble controls that are configurable from the UE Air app allow for additional sound tweaks. In a nutshell, the Logitech UE Air Speaker is an easy-to-use, standalone sound system that is perfectly capable of filling any room in your house with music.
Unfortunately, a lag of between three and five seconds is common when starting music playback, manually switching tracks or fast forwarding. This is probably related to how the UE Air Speaker caches data prior to playback, and other AirPlay speakers also see a similar lag in some cases. But you can still change volume, pause music playback and adjust bass and treble without a delay
Conclusion
Overall, I am really impressed with the Logitech UE Air Speaker. One minor disappointment: I expect a product that costs $400 to use an internal AC adapter rather than the clunky external brick this speaker came with. Still, the speaker's convenience, coupled with its rock solid performance, means that I recommend this speaker with no reservations at all.
A close-up view of the Logitech UE Air Speaker with the Apple dock closed.
The UE Air Speaker cuts a sleek profile when viewed from the side.
The back view of the UE Air Speaker. Note the two rear-facing bass reflex ports.
The back panel is where the Ethernet, auxiliary 3.5mm and AC adapter ports are located. The Wi-Fi button near the bottom is used for setting up the speaker's Wi-Fi parameters from a browser.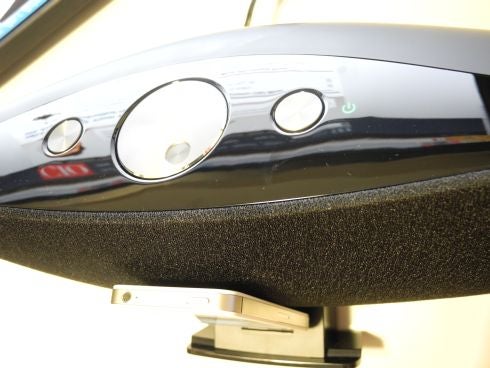 The controls from left to right: Mute button, volume control dial and power button. Pressing the power button puts the UE Air Speaker into power-saving mode; holding it for 4 seconds switches the speaker off.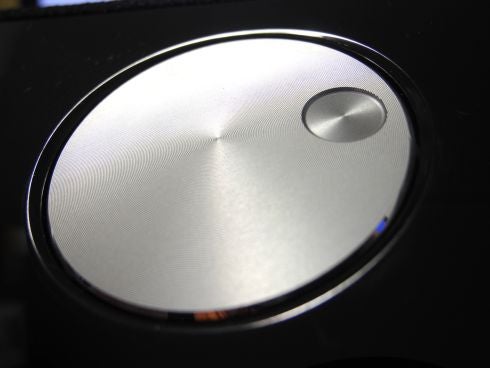 The quality of the UE Air Speaker extends down to the volume control dial, which consists of an intricate pattern of concentric circles