UPDATE: RIM just posted all of the official information for my BlackBerry World 2012 session in the conference guide, so attendees can now add it to their schedules. The session, "Ask RIM, Hosted by Al Sacco," will be held on Wednesday, May 2 at 1:00 PM in the Sago Palms room at the Orlando Marriot World Center. And the session is open to both BlackBerry World and BlackBerry Jam conference attendees. I've already received a number of great questions from readers, and I'm really looking forward to hearing RIM's answers. Please keep the questions coming!
Uncle Al wants you!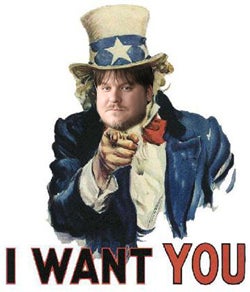 RIM is holding its annual BlackBerry World conference in just two weeks, and I've been invited to host a session at the show in which I'll ask a group of RIM representatives a handful of questions about BlackBerry and the future of the company. And if you're attending BlackBerry World 2012, the largest BlackBerry event of the year, you're also invited to my session, where I'll do some sort of reader meet and greet.
During the past few years, I've interviewed more RIM executives and other staffers than I can count on both hands. I want to make this upcoming session unique, so I'm reaching out to you, readers, for input on what you want to know from RIM.
And you don't have to pull any punches. I'll ask any and all questions you may have, assuming they're intelligent and worthy of attention—and assuming I have time to get to them all. And RIM assures me it'll make the appropriate staffers available to answer your questions. The BlackBerry-maker also tells me it will be sharing new information on BlackBerry 10 and the future of the company at BlackBerry World, so now is the time to ask your questions about what to look forward to from RIM in the coming months and years.
My session is currently scheduled for Wednesday May 2 at 1:00 PM ET. (Additional details on location will be available soon via the BlackBerry World sessions guide, and I will update this post with more information, as well, as soon as I can. And I'm trying to work something out with RIM so BlackBerry Jam developer conference attendees will be granted access to my BlackBerry World session.)
Want to know more details about BlackBerry 10 software and the types of devices it will run on? Just ask. Wondering what exactly RIM CEO Thorsten Heins meant when he said RIM will focus more on the enterprise, but won't abandon the consumer market? Ask. What's next for the BlackBerry PlayBook? Let me know, and I'll ask RIM. I'll also answer any questions you may have for me at the session.
Feel free to drop your questions in the comments section below, send me an e-mail or write me on Twitter (@ASacco).
I'm sure many of you won't be able to attend BlackBerry World, so I'll post up a summary of the session, and possibly a video afterward, so you can hear RIM's answers for yourself. And if you do make it to my session, please stop by and say hello; I love to meet readers in person, though I'll be leaving my star-studded top hat at home.
AS