From afar, the Dropcam HD looks like a typical webcam, but a closer look reveals that it is anything but. Engineers from San Francisco-based Dropcam, Inc. have somehow squeezed a lot into a chassis smaller than many Web cameras with far lesser capabilities.
The features include: Wide-angle lens with an HD video camera (1280 x 720), Wi-Fi radio with built-in antenna, night vision capabilities, speaker, microphone, and the processing capability to encrypt and stream HD video over the Internet
The company started shipping units last week for $149, and we were sent a production unit to evaluate.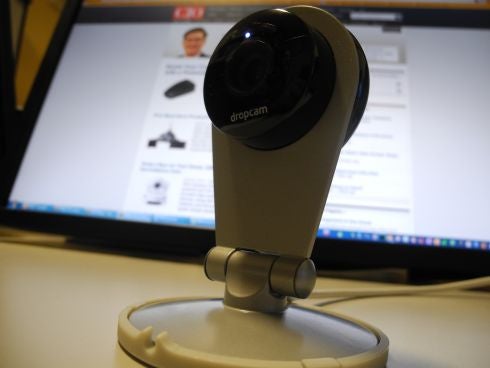 To set up the Dropcam HD, I connected it with the provided USB cable to my PC and allowed the Autorun application to launch. The setup utility itself takes only about two minutes. It guides you through the process of creating a new account on dropcam.com, connecting it to the Wi-Fi network and validating that everything is working.
Powered via the same micro USB port used in the set up process, the Dropcam HD package comes with a USB charger for actual deployment. The entire installation experience was seamless without having to thumb through an installation guide or fiddle with IP addresses or firewall configurations.
Once configured and deployed, the video stream from the Dropcam HD is viewable by logging onto the Dropcam website, or using either the free iOS or Android app. According to Dropcam, any interruption in the connection will simply result in the video being cached locally and uploaded once connection is re-established. I encountered no problem with the service in my tests conducted at various times over a few days.
A microphone built into the Dropcam HD picks up audio which is streamed together with the video for a more effective surveillance than a silent video feed. Speech can also be transmitted via an integrated speaker that is activated via a "Talk" button available on both the Web and mobile app. Finally, the presence of 12 high-power infrared LEDs means the Dropcam HD continues to capture images even in complete darkness.
What I particularly liked about the device was its ability to notice movements by detecting changes in subsequent video frames. An alert can be configured to appear on my iPhone as a push notification, which allows for peace of mind when away from home for work or vacation. Users who would like to store the streamed video feed on dropcam.com can do so by upgrading their Dropcam account to a "Plus" plan to store recorded video for seven days, or a "Pro" plan for 30 days of storage.
Security, Internet Connectivity
While the Dropcam HD performed exceptionally well, its storing of captured video on the Internet does come with some unavoidable risks and limitations. While outgoing video is protected by encryption, data stored on the Internet does run the risk of being breached by hackers either by breaking into Dropcam, or by successfully guessing one's password.
On this front, I would like to see some notification of previous log-ons, much like what Gmail offers. An alert of multiple unsuccessful attempts on the Web dashboard will also be helpful to defend against brute force attacks. Ultimately though, users will do well by opting not to point the camera at places where privacy may be a concern.
Obviously, the Dropcam HD requires Internet access to work, which may be a disadvantage for locations with no Internet access, or where reliability is low. Moreover, the slight lag time of between six to 10 seconds before "live" images appear on the Web interface negates its suitability for live surveillance; users that require more real-time access would be better off with a standard IP camera infrastructure.
Conclusion
Though having to pay a monthly fee for recording capabilities is not appealing, the simplicity of the Dropcam system is appealing when compared to the high up-front cost required for dedicated recording and storage gear. In addition, the subscription cost is also cut in half for subsequent Dropcam HDs, taking the pinch out of larger deployments. Ultimately, the Dropcam HD is a powerful device that offers 720p HD video and audio streaming in an affordable package that is intuitive and highly usable.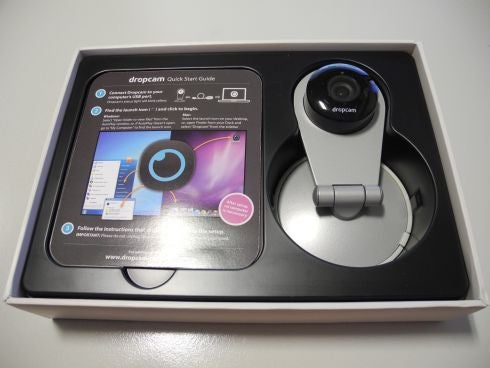 I don't usually do box shots, but I think the packaging really epitomized the usability-first philosophy behind the creation of the Dropcam HD.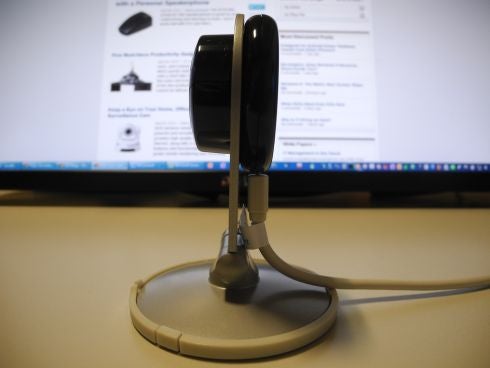 Note the slim profile of the Dropcam HD.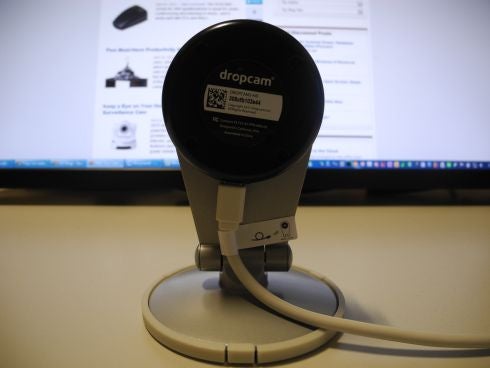 Backview of the Dropcam HD; only a micro-USB cable needs to be connected for power.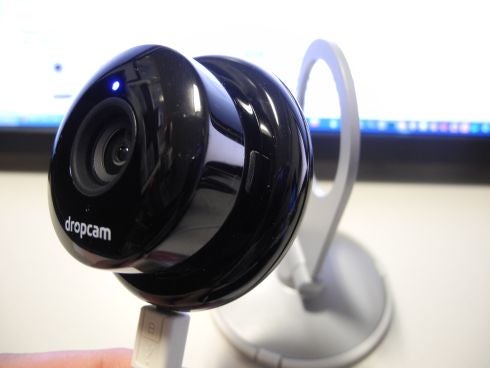 A close-up of the actual Dropcam HD when detached from the bundled stand