If it's been a while since you read Mad—you are an adult now, right?—you'll quickly get a reminder the satiric magazine's style as soon as you open the current issue (number 514, April 2012) on your iPad. Grotesque versions of the overweight main characters from TV's Mike and Molly immediately move onto your tablet screen, followed by a deep belch.
If that sounds intriguing, you're in the right place. The 60-year-old magazine, God love it, is just as unapologetically crass, juvenile, politically incorrect, and, yes, funny as ever. Only now you can read it on your iPad and trick others into thinking you're reviewing a PowerPoint presentation or doing something equally respectable–and boring.
The current issue of Mad is available on the iPad for $5; back issues cost $2 each. (Be aware that issues prior to April 2012 don't contain any interactive content.) An annual subscription is $10 and a bi-monthly subscription is $2 per issue (Mad is published every two months). And if you're a current print subscriber you can get the iPad issues for free.
Mad comes to the iPad with all of its print counterpart's features intact, including the famous recurring "fold-in" feature. In the print edition, the full-page illustration you fold suddenly becomes a completely different—and often funnier—image. But how do you fold an image on the iPad's display? By swiping the illustration from right to left, of course.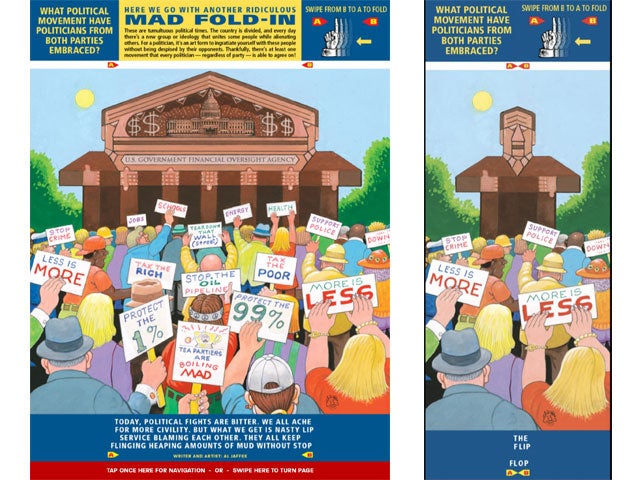 The magazine's penchant for goofy pop-culture parody is alive and well but with an interactive twist, as evidenced by such features as "Make Your Own Twilight Movie," in which you click on images to concoct your own "mediocre vampire plotline."
Some Mad staples could have used a bit of multimedia dazzle, such as Spy vs. Spy, which offers pinch-and-zoom but nothing more. And a magazine like Mad cries out for social-media-sharing buttons, but I found none in the April issue.
Still, Mad makes the transition to iPad quite well, offering gearheads at least some of the interactivity and multimedia they expect while continuing to dish out fart jokes to the faithful.