Could Chrome be the mullet of browsers? You remember what they used to say about that ugly '80s hairstyle: "business in front, party in the back." Well, a survey by a company called StatCounter suggests that Chrome is the number one choice of people on the weekends, when they're presumably at home. But Microsoft's Internet Explorer leads the pack during the week, when most folks are at work and probably use whatever browser IT tells them to use, which is often IE.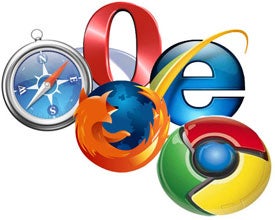 Chrome's best day came on Sunday, March 18, it held 32.71 percent of the browser market that day, compared to IE's 32.5 percent share, according to StatCounter. The following Sunday, Chrome controlled 33.02 percent of the browser market, whereas IE held 32.13 percent. Finally, Chrome secured 32.52 percent of worldwide browser market share on April 1, IE's share was 32.48.
Looked at over the last 30 days, however, IE's market share was 34.78 percent, compared to 30.87 percent for Chrome, and 24.94 percent for Firefox. Safari trailed far back in fourth place with a share of just 6.78 percent. And for the record, Microsoft argues that StatCounter's method of counting pages viewed by browsers is flawed, something the Dublin-based company disputes.
In any case, it does appear that Chrome is gaining popularity with home users, and given the long-term trend known as the consumerization of IT, it's certainly possible that those home users will drive corporate adoption of their favorite browser, which would not be good news for Microsoft.
Cloud-based computing could dimish Internet Explorer's market share as well. Most cloud-based services support any standards-based browser, which means IE is an option, not a requirement. So people will be able to use their browser of preference when accessing those services.
"While it is only one day, this is a milestone," commented Aodhan Cullen, CEO, StatCounter. "Whether Chrome can take the lead in the browser wars in the long term remains to be seen, however the trend towards Chrome usage on weekends is undeniable. On weekends, when people are free to choose what browser to use, many of them are selecting Chrome in preference to IE," he said.
Chrome has been steadily gaining share in Asia, according to StatCounter, for several years, and now holds the number one spot. It's hard to know why people choose a browser, but since Chrome runs on any number of platforms and IE is restricted to Windows, that may be part of the reason.
In North America, though, IE's market share is 41.26 percent, well above Chrome and Firefox, which scored 23.68 percent and 20.95 percent respectively.