The D-Link DCS-5635 is a wireless, network camera designed for professional surveillance and remote monitoring. It packs a number of high-end surveillance and camera capabilities, including motorized pan and tilt, and it uses a micro-SD card for on-device storage of video content. The gadget's powerful processor also enables multiple video streams, motion-detector-based recording and DVD-quality video resolution up to 30 frames per second.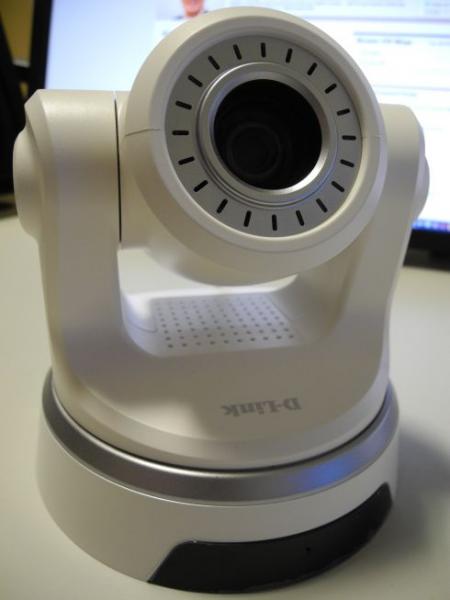 The DCS-5635 connects to wireless networks using 802.11 b/g/n Wi-Fi or wired networks using a Fast Ethernet port. One of the coolest features is its 10x optical-zoom lens which enables the device to capture small details from a distance, such as license-plate numbers and facial features. The impressive range of capabilities built into the DCS-5635 remote-surveillance camera makes it perfect for keeping an eye on things while you are away from home or out of the office.
D-Link DCS-5635 Installation Process
The DCS-563e requires very little assembly; you can attach a small mounting plate if you so desire, but that's it for parts. I simply took the network camera out of its packing foam and removed three plastic stubs used to secure it during transportation. Next, I connected the two white Wi-Fi antennas and plugged the device into an Ethernet port on my network switch before connecting the included AC adapter and turning on the power. I was good to go after that.
As is the case with all network appliances, an IP address needs to be assigned to the DCS-5635. D-Link bundled an setup PC application on a CD-ROM install disc that automatically scanned my local network for new cameras and allowed an IP address to be easily allocated. The same disc also contains the product documentation and the D-ViewCam video-management software for managing other security cameras on the same network. (More on that coming up.)
After I assigned an IP address to the camera, I was able to log into the associated Web interface from my Chrome browser. I went into the "Wireless Setup" page and entered in the requisite information for the network camera to connect to my wireless network and was then able to unplug the Ethernet cable. And an adjustable toggle lets automatically flip video orientation for when the DCS-5635 is mounted upside down on a ceiling or sideways on a wall.
General Impressions of D-Link DCS-5635
To test the unit, I viewed video from the camera on multiple devices simultaneously, using the bundled D-ViewCam software, a Web browser, iPad and an iPhone. The streaming didn't skip a beat as the network camera generated multiple streams of video in different resolutions. In total, four separate video streams can be defined under the "Audio and Video" settings, with options including Encode Type (H.264, MPEG4, JPEG), resolution (Max 704×480) and quality, which can be defined by frame rate or data rate. A Real Time Streaming Protocol (RSTP) URL can also be customized for use with compatible viewers.
So how does the DCS-5635 fare in real life scenarios? A security camera is only useful if it's reliable, so I configured a patrol circuit and basically left it panning non-stop from left to right for a week. I was pleased to see that it continued to function solidly and has not frozen or crashed at all. So I give it a high reliability rating.
What impressed me most about the DCS-5635 is its ability to see practically every corner of a room. This is due to its ability to pan left and right by 165 degrees each way and tilt upwards 34 degrees and downwards by 87 degrees. D-Link also packing in an autofocus feature, which help to ensure all images remain sharp. In the unlikely case that autofucus doesn't deliver the desired result, it is also possible to adjust the focus manually.
The DCS-5635 doesn't work in the dark, but its minimum-illumination level of 0.02 Lux means that very little light is necessary for it to capture decent image quality. In my tests, I found dim light to be sufficient.The DCS-5635 also comes with a built-in microphone and speaker, though I only used it briefly to verify that it worked. Honestly, I wouldn't expect audiophile-worthy sound quality.
As noted earlier, the unit come withs the D-ViewCam video-management software, a powerful application that lets you manage up to 32 network cameras in multiple split-screen modes. It is also capable of recording them into storage, and it controls various aspects of the DSC-5635 including pan, tilt and zoom functions.
Recommendations for Improvements to the DCS-5635
The first issue I have with the DCS-5635 is a common one with PTZ (Pan-Tilt-Zoom) cameras: the Web-based buttons were somewhat awkward and clunky for steering the network camera around. I had problems trying to reach a certain location quickly, often overshooting and then overcorrecting as I clicked repeatedly on the controls to reposition the camera.
Fortunately, a "Preset Position" feature allows for a list of positions to be preconfigured and stored. If you select a stored position such as "Left" or "Right" the camera snaps to the predefined location. One annoying factor, though, is that while pan-and-tilt positions are remembered, the zoom setting is not. This is an oversight that really should be corrected.
On the hardware side of things, performance and DVD-quality images are excellent, but it would be nice if D-Link updated the DCS-5635 with 1080p HD video-capture functionality. The lack of true HD recording is particularly troublesome when one considers the DCS-5635's steep price of $999.99–and the fact that HD cameras come a dime a dozen these days.
Finally, I was also somewhat disappointed that the DCS-5635 doesn't offer PoE (Power over Ethernet) together with Wi-Fi. PoE allows power to be pumped through ordinary Ethernet cabling, eliminating the need for AC adapters. Right now, the DCS-5635 is only available with Wi-Fi but no PoE ($899.99); a comparable unit, DCS-5605 is available with PoE but no Wi-Fi.
D-Link DCS-5635: Conclusions
Despite a few shortcomings, the D-Link DCS-5635 network camera is a very well designed product. It's is notworthy due to its range of advanced capabilities and its ability to operate as a standalone product or in conjunction with the bundled D-ViewCam software.
On the flip side, its high price point could be a huge deterrent for organization looking to deploy multiple camera units; it may be cheaper to engage a vendor should a larger-scale solution be needed. For small businesses and gadget-loving folks out there, though, the DCS-5635 is an excellent off-the-shelf PTZ camera that can be used right out of the box. If you need a network camera with PTZ to keep an eye on things, then the DCS-5635 could be just right for you.
Back view of the DCS-5635 Network Camera
Side profile of the network camera
Back panel: Note the dual Wi-Fi antenna. Also from left to right (WPS button, AC adapter input, Fast Ethernet port, GPIO, Line/Video Out, Mic In, Reset button)
The bottom consists of a rubberized material that helps the camera stay firmly in place on a flat surface
The microSD slot located at the side