The CalypsoCrystal Crystal Dock for iPhone and iPod Touch is a stunning and functional docking station, meant for charging and syncing, that's made out of premium crystal. CalypsoCrystal, based in Slovenia, says the Crystal Dock is different than other iPhone and iPod docks because it is manually cut and painstakingly handcrafted, not mass produced. The company says the Crystal Dock is the most stylish iPhone docking station available, and for the most part, I agree.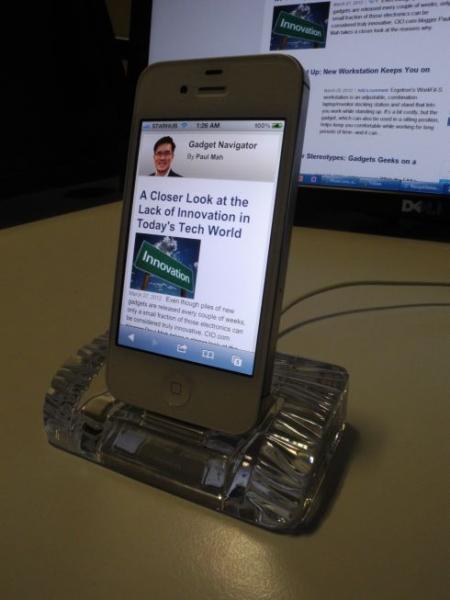 The Crystal Dock is a cut above the rest. It easily captures ambient light and seems to spotlight your iPhone or iPod. The Crystal Dock looks great in a variety of environments, including the boardroom, on a livingroom coffee table or beside your laptop in the office.
How does the Crystal Dock stand up to everyday wear and tear? The dock is very well built and functions just as you would expect. However, its slick, polished bottom means it's prone to sliding on smooth tabletops and glass surfaces. It's a bit hefty, so the weight helps to mitigate this issue. And though some rubber feet could solve the problem entirely, rubber and crystal really don't go well together.
CalypsoCrystal's Crystal Dock is available in four different models: the Aurora, Beau, Celestia and Dune. (Note the alphabetical sequence of the names.) The Aurora model is priciest, and it is unique thanks to its distinctive design, additional platinum painting in the curves and a serial number–it's a limited edition design with only 999 units produced. CalypsoCrystal tells me the Aurora is still available at the moment, but you should act fast if you want one; the company does not plan to make more after it is sold out.
CalypsoCrystal says the Crystal Dock should work with most iPhone cases due to an additional 1/16 inch (2mm) of space around the dock connector. But it didn't work when I tested it with the bulky Otterbox Reflex Series case however, which is admittedly thicker than your typical iPhone case.
The handcrafting and use of premium quality materials does come at a hefty price: A standard Crystal Dock will set you back by €99 or about US$130 , while the limited edition Aurora costs €349. (roughly US$465.)
Front view of the Crystal Dock with my white iPhone 4S
The rear connector employs a standard design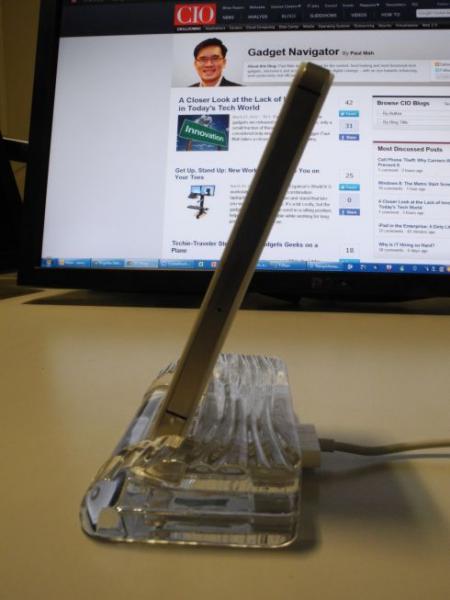 The angle of the dock makes it perfect for FaceTime
Standalone photo of the Crystal Dock
The quality of the worksmanship is evident