Microsoft's big promise with Office 15, released as a Technical Preview in January, is that it is the first Office version that will simultaneously update all of its Office-based cloud services, servers, and mobile and PC clients for Office, Office 365, Exchange, SharePoint, Lync, Project, and Visio. And of course it will run on Windows 8 and be touch-friendly.
An Office 15 public beta is scheduled for this summer, according to Microsoft.
Supersite for Windows editor Paul Thurrott is one of the select group of customers to get a copy of the Office 15 Technical Preview and in a recent blog post he highlighted some new Office 15 features with screenshots.
Overall, Office 15 apps were designed bridge the gap between the new Metro style and the traditional desktop UI that co-exist within Windows 8. But the apps all have a clean Metro-style look and feel. It remains to be seen if the Metro aesthetic makes Office 15 any more useful on a PC. The famous — or infamous — ribbon design is still present in Office 15, but it has been stripped down by default (you can expand the ribbon if you so choose).
Since Windows 8 will be touch-enabled on both PCs and tablets, Office 15 has a few features that lend themselves to the multi-touch experience including a full-screen mode that removes the ribbon and other buttons leaving just the body of the document, and also touch-mode, which is accessed by an icon in the Quick Access Toolbar that looks like a bullet hole (that's right, a bullet hole). This feature makes all the ribbon buttons and onscreen elements bigger so they can be more easily accessed through touch.
Another new cool feature is the ability to save Office 15 files directly to Microsoft's cloud storage service, SkyDrive.
But an important question still lingers: Will anybody want to use Office on a tablet via multi-touch? That will certainly be an adjustment for Office users long accustomed to using a mouse.
Here are some Office 15 screen shots, courtesy of Supersite for Windows.
Office 15 apps line up as tiles on a Windows 8 Metro start screen.
Microsoft Word 15 has a new layout that mimics a Metro-style design.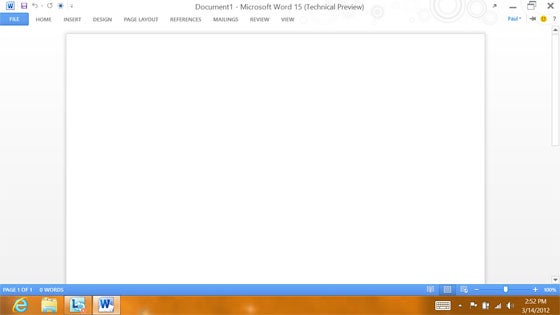 The ribbon design has been minimized in Office 15 (but can be expanded).
Word 15 files can be saved directly to Skydrive, Microsoft's cloud storage service.
Excel 15.
Excel 15 file with ribbon expanded.
PowerPoint 15.
PowerPoint 15 with ribbon expanded.