Thanks to the Retina display in Apple's new HD iPad, I just lost nearly 1 GB of storage space on my low-def iPad 2. And all I did was update seven applications.
On March 7th, Apple unveiled its latest tablet, which most people are simply calling the "new iPad." With a dazzling high-definition display that reportedly has a million more pixels than your HDTV, the new iPad has intoxicated many tech reviewers.
But now it's the morning after, so to speak, and many of us are waking up with a data storage hangover. As it turns out, many apps optimized for the new iPad's 2048 x 1536 pixel display have swollen in size compared to their previous versions, which were designed for the first two iPads' 1024 x 768 resolution.
Some apps have received additional features that contribute to their bloat. Apple's Retina-optimized iMovie, for instance, includes a number of preview videos and high-quality audio clips that it lacked before.
Mostly, however, the Retina-optimized apps have grown in file size to accommodate the more demanding graphics they now sport. Returning to iMovie as an example, Apple's video editing app expanded from 70 MB to 404 MB. That's a nearly six-fold size jump.
In the table below, I compared previous versions of 10 iPad apps to their new, Retina-optimized versions. The difference is pronounced: The new Retina versions, in total, consume nearly three times the storage space required to house their earlier versions.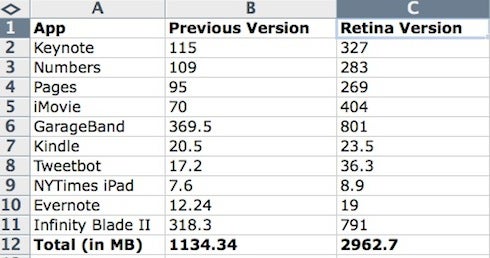 The Impact on Your iPhone
But here's the worst of it. If you own an earlier iPad or iPhone, Retina-optimized apps will gobble up storage on those devices, too—without giving you the benefit of all those pixels. That's because most apps in Apple's App Store are designed as one single, universal version. Their overall file size will be identical regardless of the devices that download them.
And don't forget that the new iPad comes with a five-megapixel camera capable of recording 1080p video—which will be yet another drain on the tablet's storage capacity.
Software bloat is nothing new in the desktop computing world, of course. Applications and operating systems routinely grow in size from one version to the next, requiring us to purchase computers with ever-more RAM, processing power and storage capacity. With the new iPad, the tablet world is, in a sense, simply carrying on that irksome but inevitable tradition.
But there's a difference. With computers, you can usually upgrade the RAM and hard drive inexpensively. You can't increase an iPad's internal storage at all. The result? Buy a new 16GB iPad and start loading it with apps, music, and video, and you'll soon feel like you've married the wrong person. "It's not me," you might say to your iPad. "It's you."
What You Can Do About It
* Weed out your apps regularly. There are probably a handful of apps on your iPhone or iPad you rarely, or never, use. Kiss 'em goodbye. They'll still be available if you want to re-download them later.
* Think about how you use your iPhone vs. your iPad and store apps and content on them accordingly.
For example, there are some apps you're more likely to use on the go—such as Foursquare. Those apps should go on your iPhone only. Restrict your iPad to apps you're more likely to use at home, such as The New York Times app you read every morning over coffee.
* Take the same approach with music and video. Do you listen to dance and rock tunes at the gym? Great; store those playlists only on your iPhone. When using your iPad at home, stream tunes through Pandora or confine your music selection to songs for unwinding at home, like jazz or classical. Whenever possible, use Netflix, AirPlay, or some other means to stream video to your iPad.
* If that strategy feels too restrictive, augment your iPad's storage with third-party devices such as the Seagate GoFlex Satellite Wireless, Kingston Wi-Drive, or the HyperDrive Hard Drive for iPad. But then you'll have another piece of gear to tote and recharge, and you can't store apps on these devices.
* Rushing out to buy a new iPad? Skip the 16GB models. Seriously—that's like buying pants one size too small in hopes you'll lose weight. At a minimum, get a 32GB iPad or if you're feeling flush, a 64GB model.
* Hold out for next year's rumored 128GB iPad. But that would mean waiting 12 months for a high-def iPad fix. That unpleasant thought reminds me of a line from Oscar Wilde's The Importance of Being Earnest, which I'm admittedly paraphrasing: "I can wait for you forever—if you're not too long."