If you like those big colorful tiles that distinguish the Windows 8 start page, you're gonna love IE10. If you don't, IE10 won't mean much to you. I've been checking out an early version of Microsoft's next browser, and like the operating system it will come with, it's designed to work on touch screens, where you'll swipe and touch, as well as more conventional desktop screens where you'll point and click.
The available version of IE10 is pretty early; Microsoft calls it a platform preview, and frankly much of it looks like IE9. It isn't fair to expect it to function smoothly, but what we can see, along with a blog post about the browser by the Windows engineering team, tells us quite a bit.
Windows 8 Consumer Preview: Love, Hate and Everything in Between

Top Windows 8 Apps (So Far)
If you do want to try out IE10, you must first download Windows 8– but remember, I warned you earlier this month that it's foolish to download the new OS on your main machine. First go to the start page and type "default." A box will come up, click it and set IE as a default and reboot the machine. If you don't do that, IE will run as IE9. Why Microsoft made it that complicated is beyond me.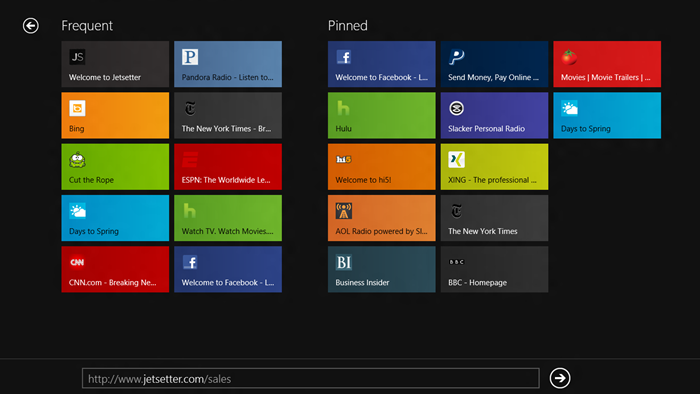 At various points, you'll see the color tabs of the Metro UI (user interface) that link to frequently visited sites and so on. This is probably much cooler when you're swiping rather than clicking.
Aside from the tiles, you'll notice right away that Microsoft has kept, and even deepened, the "less is more" philosophy of browser building started by Google's Chrome. When it launches, you pretty much only see a full screen Web page. And like much of Windows 8 itself, the browser controls are built to appear and disappear depending on what you're doing and where you are on the screen. As I wrote earlier this month, I find that disconcerting. I like controls being right where I can find them without thinking about it.
In fact the default page view has no controls at all. You need to right click to get to an icon for "page controls" click it and then a view with tabs and other controls appears. To print, as near as I can tell, you've got to use the "charms" on the right side of the screen. (In case you have seen it, the charms are five icons down the side of the screen, that control various functions, including print.)
The Microsoft blog post says that: "We also designed in the comprehensive functionality that people need for everyday heavy-duty Web browsing: great touch keyboard support for forms, integrated spell checking with AutoCorrect, finding text on the page, etc."
There's some cool functionality that let's you manipulate Web images including panning and zooming while the page loads. Rather than try to describe more of what IE10 can do with images, I'd suggest that you go to the blog post I linked above and watch the video.
Much of what I saw in my brief road test of IE10 leads me to the same conclusion I came to about Windows 8. IE10 seems like it would be a lot more useable, maybe even impressive, on a touch-enabled device. Like with many Windows 8 features, using a keyboard and mouse is frustrating.
Microsoft says IE10 uses an "enhanced protected mode," which is a way of "sandboxing" or isolating the browser from the rest of the operating system to a certain extent. That way, malware that successfully attacks the browser won't be able to write nasty stuff to the hard drive. There's also a change to the private browsing mode that will allow the user to browse privately with some tabs and browse normally with others.
All in all, I had fun messing with this, but can't imagine using IE10 as my main browser, at least until I'm running Windows 8 a touch-enabled system.