The prices of network attached storage (NAS) servers have dropped significantly during the last couple of years, making the cost of implementing proper data protection much less prohibitive. Designed for use in homes and at small businesses, the Synology DiskStation DS212 offers data mirroring, also known as RAID 1, as well as a number of capabilities not typically found in entry-level NAS devices.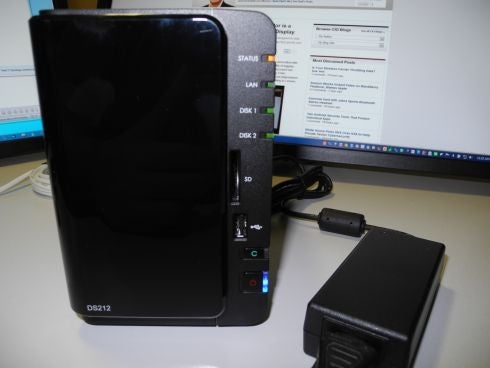 Synology is an NAS specialist, and the company manufactures an extensive range of storage appliances including single hard disk drive (HDD) appliances for home use, mammoth units that expand to 36 HDDs or 100TB of storage via 3TB HDDs and everything in between. What differentiates Synology from other NAS vendors is the fact that every Synology NAS hardware runs on the same Linux-based DiskStation Manager (DSM) NAS server operating system.
My review unit of the DiskStation DS212 came equipped with the beta version of DSM 4.0 (DSM 3.2 is the current official version) preinstalled, which incorporates a number of additional capabilities as well as a more responsive UI. A full exploration of the DSM's capabilities is beyond the scope of this review, so I'll focus instead on the features and functionalty that really caught my attention.
Synology DiskStation DS212 Hardware
The DS212 is a two bay NAS server, as mentioned above. The device has a Gigabit Ethernet port for its network interface, with two USB 3.0 ports located on the back panel and one USB 2.0 port on the front. The HDDs are placed inside hot-swappable trays hidden behind an easily removable front panel. One thing I really like is how the tray supports both 3.5-inch and 2.5-inch HDDs. However, though additional screws were supplied for 3.5-inch HDD, I was forced to use my own screws to attach a 2.5-inch HDD to the tray.
Why woud you want to use 2.5-inch HDDs instead of the 3.5-inch units? The smaller HDDs offer quieter and cooler operation, and you might want to deploy the DS212 with solid state disks, which are almost exclusively available in 2.5-inch form factors. (But the 1GbE port means that performance gains with SSDs will be relatively modest).
DS212 Installation
Installing the DS212 is as simple as installing the Synology Assistant software found on the CD that comes with the unit. Synology Assistant automatically scans for all Synology NAS servers on the local network and installs the DSM operating system onto the desired NAS hardware. My device came with DSM installed on a single hard disk, so I was spared this step. Management of the DS212 is primarily handled via its slick Web interface (Picture below) by double clicking on the desired NAS in Synology Assistant, or by plugging its IP address directly into your Web browser.
In my tests, the DS212 was extremely quiet, likely due to its variable speed fan. An SD reader on the front panel supports SD memory cards, while external storage devices can also be added via its trio of USB ports. Another notable feature: the "C" (for "Copy") button on the front panel, which can be used to copy data from the SD card or external storage device (configurable) into the DS212.
Overall, I didn't find much to dislike about the DS212. Users looking for a simple plug-and-play RAID storage device could be disappointed, even with the user-friendly DSM interface. Similarly, power users who require more than 3TB of protected storage should look for a higher-capacity NAS instead.
Conclusion
Priced at $299 for the diskless model, the DS212 is a capable and whisper-quiet NAS server with a stylish design that should fit well in a home office or on a bookshelf. It also comes with a number of capabilities such as support for reading SD cards and USB 3.0 that makes it an excellent backup device for small businesses. As such, I'd recommend the device to users with modest storage needs (2-3TB).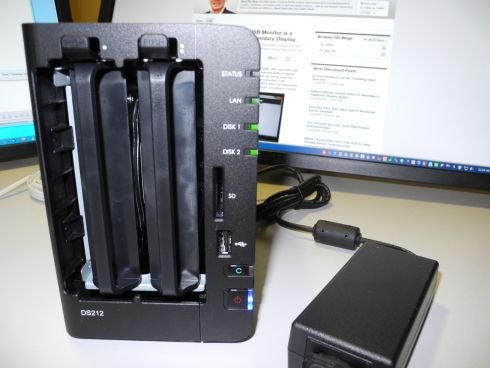 Frontal view of the DS212. Note the power brick on the right hand side.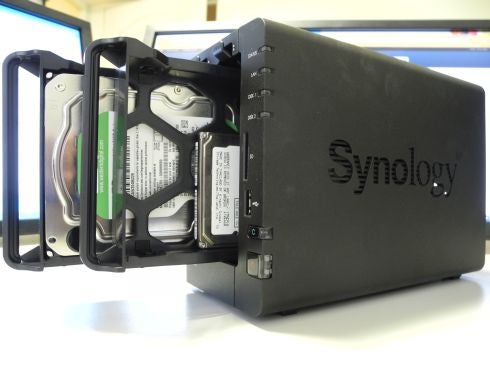 The DS212 with one 3.5-inch and one 2.5-inch HDD mounted onto their respective trays.
Back view of the DS212 with the front panel removed
A screenshot of the DiskStation Manager running in my Chrome browser