If you want to passcode-protect a few Android applications instead of your entire device, you're in luck. There's an app for that.
Actually, I counted over 30 'app-lock' utilities that promise to give you granular security control over your apps. I downloaded and tested two, both free. One, App Lock (current version 1.7.3 by Creative Core) was a complete wash-out on both of my Samsung Android devices. The other, Smart App Protector (current version 4.2.1 by Sputnik) worked as promised but has a slightly confusing interface and poor English translation.
Why would you only want to lock specific apps rather than your entire device? Some people don't like having to punch in a passcode just to check the weather or make a call, but they want some security on their devices. Or if you have kids, you might want to lock down your Android tablet's Web browser or YouTube apps, rather than the entire tablet.
App Lock has the nicer interface of the two apps I reviewed, and it was easy to install. However, I question how secure the app truly is. For example, you're encouraged to email yourself the passcode you set up; the email message heading is "App Lock passcode." It wouldn't be too hard for prying eyes to figure that one out. Also, you'll need to make sure your passcode hint isn't too obvious. That's because the app always displays your passcode hint in the same window in which you type the passcode (see screen shot below).
Version 1.7.3, which I tested, supposedly fixed a compatibility issue with "some Samsung phones." However, I was unable to assign passcodes to new apps using App Lock on either my Samsung Galaxy Note smartphone or my Samsung Galaxy Tab 8.9 tablet. My hunch is that the current version still has compatibility bugs with Samsung devices.
Having been thwarted by App Lock, I moved on to Smart App Protector. As I mentioned, the app's interface is a bit confusing at first. I assumed that by clicking on the "Apps" tab, I'd be able to add (or remove) apps for passcode protection. Not so; this tab is for launching, uninstalling, and backing up apps. To passcode-protect an app, you must go to the "Running" tab.
The dialog box that explains the difference between these two tabs provides a good example of the app's poor English translations:
"This is App Manager page. you can launch, uninstall, backup the installed applications so fast and more simply…If you want to protect a application through password, and then please move to Running tab."
Complaints aside, Smart App Protector works as promised, making it super easy to passcode-protect selected apps from a checklist (see screen below). It offers some nice additional features, such as the ability to prevent your device's screen from auto-rotating or turning off in a selected app.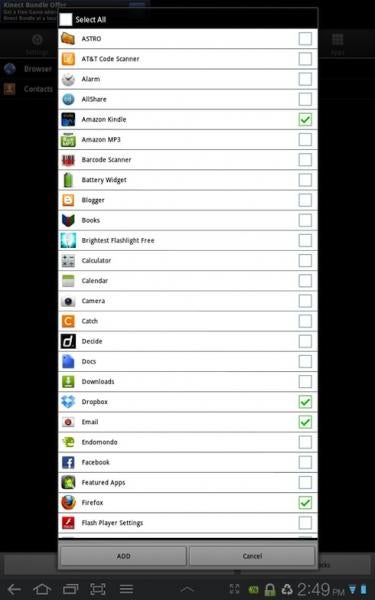 If neither of these options sound tempting, you've got 30 or so other Android app-lock utilities to try, and most are free or only a dollar or two. And if you know of any other app-lock software for Android that's worth a download, drop a comment below to let me know.