A couple of months ago, BlackBerry-maker Research In Motion (RIM) told its developer base that it would soon be instituting application ratings to "improve discovery and safety" in its BlackBerry App World software shop. Those ratings, which have since been rolled out, are broken down into four categories: General; Teen; Mature; and Adult.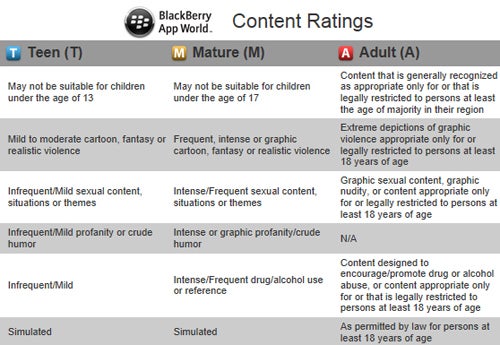 It's no surprise that RIM decided to add ratings to App World, along with new ways to filter app searches by rating and on-device controls that allow users to block certain content from showing up in searches. (Google offers a similar rating system for its Android Market.) What's particularly interesting is RIM's stand on the acceptance of sexual, violent and/or drug-related content: the BlackBerry-maker seems to be fine with all of it.
This stance is in marked contrast to Apple's anti-porn in iTunes standpoint, which former CEO Steve Jobs cemented with the following quote from 2010:
"[W]e…believe we have a moral responsibility to keep porn off the iPhone. Folks who want porn can buy and [sic] Android phone."
On its developer website, Apple even goes as far as saying its "app approval process is in place to ensure that applications are reliable, perform as expected, and are free of explicit and offensive material."
RIM, apparently, doesn't feel the same moral responsibility. And it now seems that those porn-seeking folks could also buy a BlackBerry—or, you know, simply fire up a browser and surf on over to any one of the million or so suspect sites on the Web. But that's beside the point.
I admittedly haven't seen any offensively graphic, or even soft-core, pornography or ultra-violent apps listed in App World. Yet. But RIM's description of "mature" apps seems to suggest that such content, along with apps that glorify drug use, could potentially be posted in the future. RIM could even start distributing gambling apps where legal.
Here's a quick look at the BlackBerry App World descriptions for "adult" apps based on the software's level of "violence," "sexual content," "alcohol, tobacco, drug use," and "gambling:"
Adult: Content that is generally recognized as appropriate only for or that is legally restricted to persons at least the age of majority in their region

Violence: Extreme depictions of graphic violence appropriate only for or legally restricted to persons at least 18 years of age

Sexual Content: Graphic sexual content, graphic nudity, or content appropriate only for or legally restricted to persons at least 18 years of age

Alcohol, tobacco, drug use: Content designed to encourage/promote drug or alcohol abuse, or content appropriate only for or that is legally restricted to persons at least 18 years of age

Gambling: As permitted by law for persons at least 18 years of age
Honestly, I think it's a good thing that RIM doesn't censor any of the applications that developers submit to App World—you simply cannot censor the Web, so why censor apps? Though I do think this could be an issue in the future. I'm fairly sure that more sensitive and/or conservative BlackBerry users might frown upon such content even though RIM is offering ways to block potentially offensive apps from showing up in searches and from being downloaded.
Regardless of your position on the issue, you can pop on over to the next page for a quick look at some of the more "risqué" apps available in App World. If you're outraged that RIM would approve these apps or you're easily offended, simply leave this post now because some of this content could be considered NSFW (not suitable for work). You've been warned.
1) Various "Leg Models" Apps on BlackBerry App World
If you're into young, Japanese women, and more specifically, their legs, you're sure to find a friend, or many of them, in the collection of "leg model" apps currently available for free download in BlackBerry App World. I'm not really sure why these apps are rated as "Adult" instead of "Mature," or maybe even "Teen," because they don't appear to contain any nudity and they're not overtly sexual. They are plain ol' strange, though, and perhaps the distinctly "fetishist" nature of the apps led RIM to tag them as Adult.
Here's a tagline from the "Beautyleg Model Avy Gallery by infire" app:
"No porn,No nude,No erotic.JUST SEXY GIRL!"
You can check out one of the many leg model apps on BlackBerry App World here.
2) A Pile of Sexual Position Apps on BlackBerry App World
BlackBerry App World currently has no shortage of Kama-Sutra-esque applications available for download, and though I haven't downloaded any of them—none are free, at least that I found, and I'm not wasting a few dollars—it's fairly clear what they all offer: Tips and illustrations on new, different and potentially painful sexual positions.
Here are links to a few such apps: GetSome Positions, rated Mature ($1.99); Sex Positions, rated Adult ($0.99); Kama Sutra – Sex Positions, rated Adult ($0.99).
The GetSome Positions app description on App World even includes instructions on how to hide the app once you've downloaded it. Nice.
3) Sexy Wallpapers and Slide Shows on BlackBerry App World
A quick search for the word "Sex" on App World yielded a variety of "sexy" wallpapers and "slide shows" that display countless young women in suggestive poses. Most of the wallpapers I saw weren't particularly offensive, at least in my opinion, and most were rated Mature instead of Adult.
One example is the "Sexy Slide Show" live motion wallpaper ($2.99).
4) Graphic eBooks on BlackBerry App World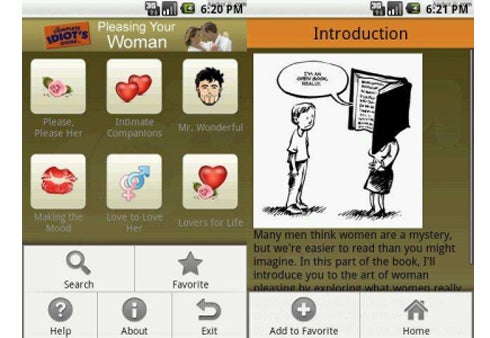 A number of graphic eBooks can also be downloaded via BlackBerry App World, many of which are rated Adult. Again, I didn't download any of these "apps"—I have better things to read, I promise—so I'm not really sure just how graphic they are. But one particular book caught my eye: "Pleasing Your Women" by Mobifusion Books/Eve Salinger, which is rated Adult. I love how the title is "Pleasing Your Women," and not "Pleasing Your Woman." I can only imagine the kinds of Lotharios who purchase this eBook.
Check out the Pleasing Your Women (eBook) for the PlayBook tablet here ($1.99).
5) Sexy Calendar Apps on BlackBerry App World
Similar to the sexy wallpaper apps mentioned above, the "Sexy Calendar" apps I found on BlackBerry App World consist of scantily-clad young women posing in odd and uncomfortable-looking positions. The apps are basically digital versions of those calendars you often see hanging in the auto-bays at your mechanic's garage. Not much else to see here.
Check out Super Models Calendar on BlackBerry App World.
In my opinion, none of these apps are particularly offensive, and they'll likely appeal more to teenage boys than any mature adults. But it will certainly be interesting to see what kinds of additional explicit content RIM allows into BlackBerry App World, since its Adult app rating description is very broad.
AS