The big news in the world o' BlackBerry today: Research In Motion (RIM) finally released PlayBook OS 2.0 for its tablet PC, and the software finally packs native e-mail, calendar and contacts apps, among other things. Finally.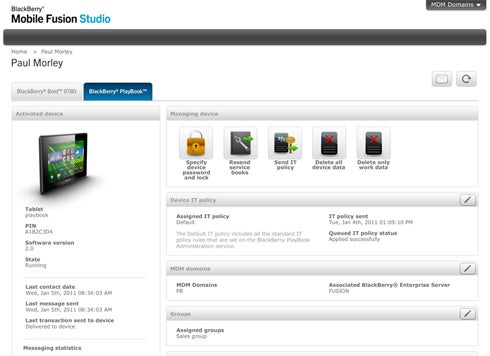 PlayBook owners can—and should—rejoice. And if my Twitter timeline is any indication, most of them are. But RIM also tucked a couple of interesting sentences about its BlackBerry Mobile Fusion software into the PlayBook 2.0 press release that indicate Mobile Fusion is still on track for a late March release.
RIM also said it has released an early version of the software that only works with BlackBerry smartphones and tablets and not the Android and iOS devices Mobile Fusion will be capable of managing when the full version is released next month. Unfortunately, the handset maker did not offer any specifics on how to download this early version, though existing BES customers can presumably contact their RIM customer service representatives to request access.
RIM is also making the new BlackBerry Mobile Fusion software available to BES users for free for 90 days for up to 500 users, so you can try out the new product without any financial risk.
Read my recent story on what you need to know about BlackBerry Mobile Fusion here. Or hop over to RIM's website for more "official" details and documentation.
AS