Frequent travelers and mobile executives who loathe lugging their laptops everywhere can benefit from a tablet (or smartphone) paired with a good portable keyboard. As a speedy "touch typist," I get frustrated when writing a lengthy correspondence on my iPad's virtual keyboard – so much so that I'll usually whip out my BlackBerry instead, or just put if off until I'm back at my desk. So I've always been on the lookout for a good, solid portable keyboard. (Anyone still remember the original Stowaway folding keyboard?)
The ZAGGkeys Flex is the latest in a string of popular Bluetooth keyboards made by accessory maker ZAGG Inc, and comes with a protective case that also functions as a stand. The Bluetooth keyboard is powered by an internal 510mAh rechargeable lithium polymer battery that the company says will last for weeks, and it recharges via a microUSB port (Cable included). Though I haven't tested this particular claim, I can say that battery life was never an issue in my tests.
The ZAGGkeys Flex is not a full-sized keyboard, but slightly smaller – it is in fact the same length as an iPad. Despite its diminutive size, the ZAGGkeys Flex is sufficiently close to full-sized keyboard, and I expect most people will get used to it relatively quickly. The keyboard doesn't feel cramped to me, and has a tactile feel and portability that is almost as good as my Apple Wireless Keyboard. Finally, the chiclet keys make keeping it clear of crumbs or dirt a relatively easy affair .
The unit bent a bit when I twisted the keyboard using two hands, though is unlikely to be of any concern when used on a flat desk. Away from the desk, its size means it's less than absolute rigidity is not as bad as it sounds.
The keyboard itself supports a range of customized function keys for directly initiating certain functions. This isn't something I used often, though some may find it useful. Shortcut keys for media playback (Volume up, Volume down, Mute, Pause, Fast forward, Fast backwards,etc.), editing (Cut, Copy, Paste), key lock and home key are all located in the top row of keys. A toggle at the back of the keyboard switches the custom keys between iOS and Android, while an on/off toggle allows you to power off the keyboard to save batterty. If you intend to use the Flex with more than one tablet or smartphone though, the bad news is that the keyboard can only be paired to only one device at a time.
The protective cover comes with precise cutouts that enable the keyboard to fold into a stand. Embedded magnets helps hold the stand in position where it steadily supports your iPad or other similarly sized gadget. Unfortunately, though the faux-felt material on the inside surface feels good to the touch it readily attracts oil and dust that show up as unsightly smudges.
Overall, I was satisfied with the ZAGGkeys Flex typing experience. Its full-plastic chassis does make the keyboard feel somewhat "plasticy," but the construction of the keyboard is excellent. The ZAGGkeys Flex Bluetooth keyboard is currently available from the ZAGG website for $79.99 with free shipping to most locations in the United States.
From left to right (On/Off Toggle, Android/iOS Toggle, Button to initiate Bluetooth Pairing, microUSB charging slot)
The ZAGGkeys Flex is the same length as an iPad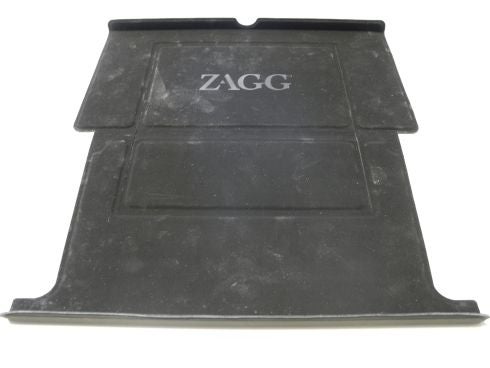 Note the smudges on the inside of the protective cover